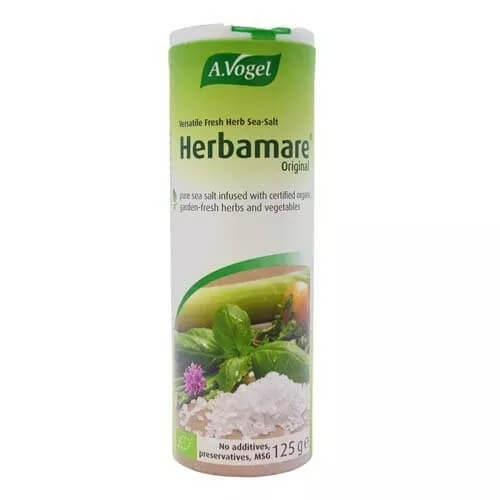 Herbamare 125g (Green pack)
Herbamare® Herbed Sea Salt
Natural food with fresh, organic ingredients have a most positive impact on taste and health.
A.Vogel's Herbamare is made from pure sea salt and freshly harvested, organically grown herbs and vegetables – because fresh plants deliver the best natural flavours. With its unique taste Herbamare® enhances the flavour of any recipe. Use like salt for all your dishes.
Ingredients
Sea salt, celery*, leek*, cress*, onion*, chives*, parsley*, lovage*, garlic*, basil*, marjoram*, rosemary*, thyme*, kelp algae.
*Certified organic
Allergy information
Contains celery. Free from MSG, gluten, lactose, milk protein, additives and preservatives.
Nutrition information (100 g)
energy: 100 kJ (23 kcal)
fat: < 0,5 g
of which saturated fatty acids: < 0,5 g
carbohydrates: 4,5 g
of which sugars: 1.0 g
proteins: 0.5 g
salt: 96.3 g
idoine: 600 µg / 400 %*
*reference intake of an average adult (150 μg)