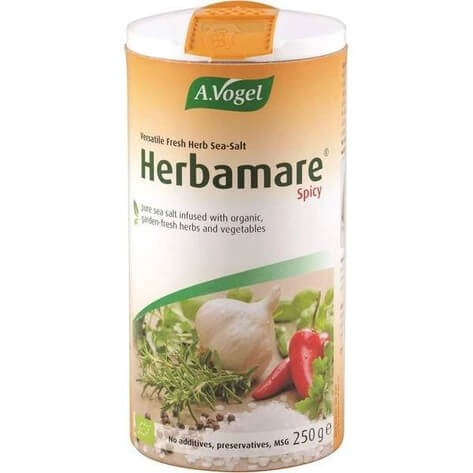 Herbamare Spicy 250g (Yellow pack)
The addition of horseradish, chilli and pepper adds a hint of spice to this product without being overbearing or taking away from the taste of your food.
Herbamare® Spicy makes an ideal seasoning salt for all manner of dishes such as barbecues, Mexican and Indian dishes, pasta, pizza, lasagne and much, much more.
Herbamare® Spicy Herb Seasoning Salt is unique in the way it is traditionally created in our factory in Colmar, France.
Ingredients:
Sea salt, celery, leek*, cress*, onions*, chives*, chili*, pepper*, parsley*, lovage*, garlic*, horseradish*, basil*, marjoram*, rosemary*, thyme* and kelp.
* Organically grown

FREE from Added Gluten, Wheat, Sugar, Cow?s Milk, Egg Protein, Lactose, Soya, Sesame, Casin, Artificial Flavours, Preservatives or Colouring, Peanut, Nut, Monosodium Glutamate (MSG), Hydrolised Vegetable Protein (HVP), animal by-products.
FREE from Synthetically Produced Substances, Genetically Modified Organisms (GMO) and Genetic Engineering (GE)