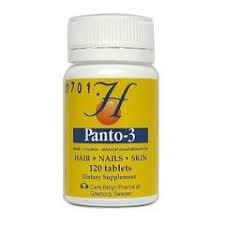 Panto - 3 120 Tablets
Hair, skin and nail care from the inside!
H Panto-3 is a popular Swedish nutritional formula. Panto 3 is the new generation of H-Pantoten tablets.

It has long been recognized that hair is a living part of your body, just like your skin, teeth or nails, and that it must be fed by your blood stream.
 
Your blood cannot deliver to your hair all the required nutrients unless it is supplied with all these nutrients from your food. If your diet is deficient in some of the required vitamins, minerals, trace elements and proteins, then your blood will be deficient in these elements too, and it will not be able to supply them to your hair.
 
That's why the Swedish H-PANTO 3 tablets have been so successful. Not only do they contain the vital nutritive elements known to science today to be essential for healthy hair growth but they also contain B-Complex vitamins known to be able to dilate the blood vessels so that these nutrients can travel through the blood stream to the hair roots.
Directions:
Take 2 tablets daily, preferably before breakfast or as directed by your healthcare practitioner.

Precautions:
Vitamin A intake in excessive amounts may be toxic and may increase the risk of birth defects. 

Pregnant women and those who may become pregnant should not exceed 5,000 IU of pre-formed vitamin A (retinyl palmitate or retinyl acetate) per day. 
It is also recommended that children under four years of age avoid regularly consuming more than 2,500 IU of pre-formed vitamin A per day.
This product contains selenium which is toxic in high doses.  A daily dose of 150 micrograms for adults of selenium from dietary supplements should not be exceeded.
Each Two Tablets Contain:
Vitamin A 500 mcgVitamin B-1 2.2 mgVitamin B-2 2.4 mgNiacin 32 mgPantothenic Acid 15 mgVitamin B-6 3 mgVitamin B-12 6 mcgBiotin 300 mcgFolic Acid 200 mcgInositol 2 mgPABA (Para Amino Benzoic Acid) 2 mgVitamin E 9 mgSilicon 20 mgZinc 7.5 mgIron 10 mgSelenium 25 mcgManganese 1.5 mgCopper 1 mgMolybdenum 75 mcgMethionine 60 mgCystine 15 mg