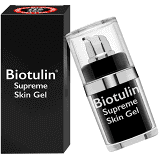 Biotulin

Safe & suitable for all skin types
Due to their natural ingredients and low-irritant formulations, Biotulin® products are safe for all skin types - including sensitive skin - or during pregnancy and nursing.


Ingredients:
Spilanthol
The key ingredient of Biotulin is spilanthol, a local anesthetic extracted from the Acmella Oleracea plant, commonly known as paracress. This reduces facial muscle micro-contractions and relaxes the facial features. Fine lines, particularly around the eye-area (crows' feet and frown lines) and forehead vanish – your skin becomes visibly smooth. Furthermore, in clinical trials spilanthol has been proven to reorganise the collagen fibres when used for a period of at least 28 days, giving longterm results.
Hyaluronic Acid
A naturally occurring component of the human body, 50% of the body's hyaluronic acid is found in the skin and has the ability to bind huge amounts of water relative to its mass. Hyaluronic acid nourishes and hydrates the collagen fibers and therefore has a major anti-ageing effect by retaining the skin's natural volume. Skin remains radiant and healthy.
Imperata Cylindrica
The third key ingredient is extracted from Imperata Cylindrica, commonly known as blady grass, a plant which survives in the driest and saltiest regions of South America and Australia. This extract hydrates the skin for 24 hours.
Effectiveness of Spilanthol in Biotulin
Spilanthol, the key ingredient of Biotulin was tested under laboratory conditions on a muscle-contraction model – no animal testing. After successful results under laboratory conditions, tests were repeated with voluntary human participants.
The Results:
The smallest amounts of Spilanthol were sufficient to fully relax the facial muscles beneath the skin to which it was applied
Subsequent tests on human volunteers confirmed the results previously attained by the muscle-contraction model: after just 60 minutes, a tightening effect was clearly visible.
Furthermore, at a Spilanthol concentration of 3%, a residual effect could be observed 24 hours after application
(Spilanthol concentration in Biotulin Gel is 5%).
Finally, after just 30 days of continual use, depth and length of wrinkles were visibly reduced, skin was generally smoother and firmer
Easy Application
Biotulin Supreme Skin Gel is incredibly economical – only a small amount is needed. After cleansing, apply a pea-sized drop (about half a pump) of Biotulin evenly to the face, neck or chest or to areas of concern (frown lines, laugh lines, crow's feet etc.).
Massage gently into the skin until the water based gel has been fully absorbed. The tightening sensation is experienced by most people within the first hour, and can last up to 12 hours.
Biotulin Supreme Skin Gel should always be integrated into a regular skin routine including a moisturiser (ideally Biotulin Daynite24+) and sunblock. Conveniently it can be combined with all other skin care and make up products.
For optimal results Biotulin Supreme Skin Gel should be applied at least twice daily.
Biotulin Supreme Skin Gel has no known risks or side effects, and is packaged in an airtight dispenser to ensure hygienic application, preserve ingredients and maintain shelf-life.
Effectiveness of Biotulin
An independent dermatological study conducted on human volunteers proved that just ONE HOUR after application of Biotulin:
75% of volunteers already experienced results of up to a 25% reduction of the depth of their wrinkles!
Furthermore, after regular recommended application (2x a day) for a month:
90% of volunteers showed a reduction of up to 22% in the depth of their crow's feet.
.