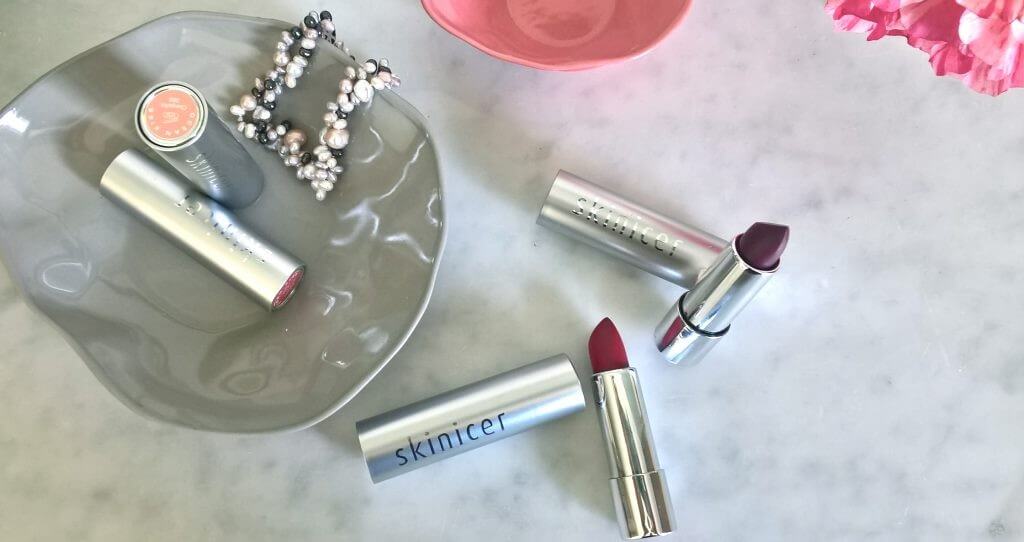 Skinicer Ocean Kiss Lipstick Nude
Skinicer® ocean kiss combines beauty, care, regeneration and cell protection in one unique product. The lipsticks are based on high-quality natural ingredients, which provide moisture for healthy and beautiful lips. Natural colourings ensure rich, long-lasting colour and shine.
What makes skinicer® ocean kiss unique, is the patented microalgae ingredient Spiralin® – with its antimicrobial, collagen-forming and regenerative properties.
What are the benefits of Spiralin® in ocean kiss lipsticks?
Spiralin…
…creates antimicrobial protection against bacteria & fungi 
The patented active extract of microalgae, Spiralin® has been clinically proven to posses an inhibitory effect on potentially skin damaging fungi strains and problematic bacterial germs (such as staphylococcus aureus & propionibacterium acnes).
This makes ocean kiss ideal for sensitive lips and lips prone to herpes/cold sores, as Spiralin covers the skin cells (in this case of the lips) with a protective film to protect them from bacteria. Furthermore, the risk of infection from dead skin cells on the lipstick itself becomes irrelevant, also breaking the reinfection cycle.
> no more scabby & infected lips!
…protects against cell-damaging influences like UV radiation
Experimental studies showed that collagen-forming skin cells (fibroblasts) lost little or no activity under the influence of the polysaccharides in Spiralin® following exposure to strong UV radiation, whereas the skin cells irradiated with the same UV dosage – but without the protection of Spiralin® – lost almost 50% of their activity.
Of course cell-protection from the harmful effects of UV rays are of benefit for anyone, but particularly for herpes-prone lips, with the sun's rays being one of the most common triggers for breakouts.
> no more chapped lips!
…regenerates damaged skin cells
Experimental studies revealed that collagen-forming skin cells that had lost almost 50% of their cell activity as the result of UV irradiation, were able to regain approx. 50% of the lost activity under the influence of the polysaccharides contained in Spiralin®.
> healthy lips!
…protects against premature skin ageing
Sun, stress, poor nutrition and many other negative influences can cause the skin to age prematurely. The collagen-forming cells are an important factor in the ageing of the skin. The quantity and quality of collagen determine the firmness of the skin. Studies have shown that the polysaccharides contained in Spiralin® increase the formation of collagen in human skin cells by up to 36% (depending on the concentration).
> youthful lips!
Skinicer® ocean kiss lipsticks are 100% natural, gluten- and lactose-free and come in four essential shades.
 If there are other skin issues with your lips you are aware of, come into the health shop, let me have a look at it or phone and make an appointment and see me as naturopath in my clinic. Phone: 094264455