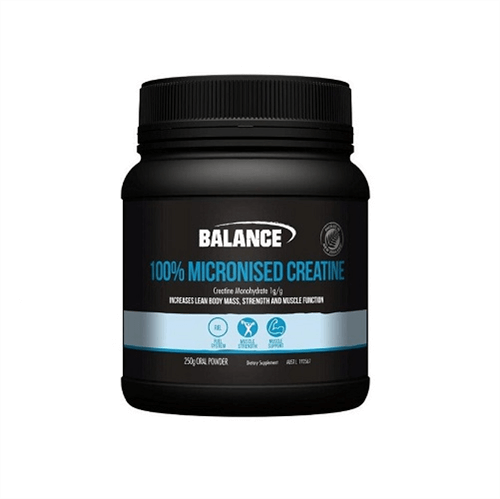 Pure Micronised Creatine Powder 250g
Balance 100% Pure Mirconised Creatine is a more advanced product from your regular creatines that are on the market.  This formula contains only pure micronised creatine, which is processed to provide particles, for maximum absorption and utilisation in the body. 
Balance 100% Pure Mirconised Creatine:
Increase power and strength
Supports lean body mass, strength and muscle function
Assists in inhibiting muscle damage from big weights session
Versatile pure format – ideal for adding to juice, shakes or liquids.
It is important not to overlook the need for energy when trying to build muscle. The actual process of lifting weights requires great effort and can only be fueled by energy sources stored within the muscle cell. While carbohydrates provide the majority of the energy during training sessions, creatine serves to provide immediate energy at the onset of exercise, until the breakdown of glycogen can take over.
Typically, this energy supply can last for only 5-10 seconds before reserves become depleted. By supplementing with creatine, the duration of this energy source can be extended for a valuable few seconds, which allows you to push harder and longer during training sessions. The end result is increased stimulus of the muscle cells, which ultimately encourages greater muscle growth.
When creatine is taken up by the muscle cells, it also drags water into the muscle cells. Increasing the hydrated state of the muscle cell in this way encourages protein synthesis for the development of new muscle tissue.
Balance Creatine is New Zealand made to the highest standards so you can be sure you are buying the best.
Available Sizes:
Container Size: 250G
Serving Size: 1 Teaspoon (15g)
Servings Per Container: 50
Container Size: 500G
Serving Size: 1 Teaspoon (15g)
Servings Per Container: 100
Directions:
Loading phase: Take one serve 4 times daily for 5 days.
Maintenance phase: Take one serve daily.
Add to a glass of water or high carbohydrate drink, stir and serve. Ideally consume with fruit juice or cordial as creatine is best absorbed when glucose is present.