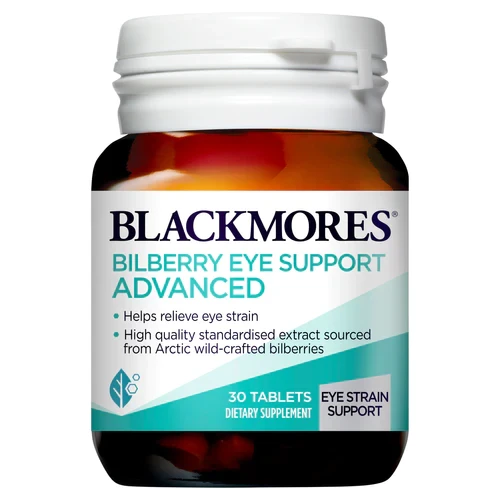 Blackmores Bilberry Eye Support Advanced 30 tabs
Blackmores Bilberry Eye Support Advanced is a high-quality standardised extract sourced from Arctic wild-crafted bilberries with 29mg of active anthocyanosides per tablet. It is an antioxidant to help defend against free radical damage, support blood vessel health, eye health and general health and wellbeing.

Helps relieve eye strain
Supports eye health
Includes antioxidants to help reduce free radicals in the body
Supports blood vessel health of the eye


Adults
– Take 1 tablet a day with a meal as professionally prescribed.

To help relieve eyestrain
– Take 2 tablets per day with meals or as professionally prescribed
Children under 18 years old
– Only as professionally prescribed.
Contraindications and cautions
If symptoms persist see your healthcare professional. If you are pregnant or breastfeeding, consult your healthcare professional before use
Vitamin supplements should not replace a balanced diet
Always read the label
Use only as directed
Contains benzoates, soya bean, sulphites
If you have any pre-existing conditions, or are on any medications always talk to your health professional before use
Some products should be ceased at least two weeks before any elective surgery, please confirm with your health professional.
If symptoms persist, come into the health shop for a chat or phone and make an appointment and see me as naturopath in my clinic.
Phone: 094264455