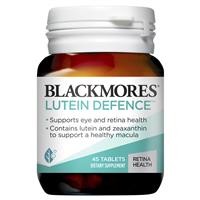 Blackmores Lutein Defence
Blackmores Lutein Defence™ is an antioxidant formula containing lutein and zeaxanthin. Supports eye and retina health, eye macula health and general health and wellbeing. May help defend against free radical damage.

5% of all sales proudly support Macular Degeneration New Zealand.
Supports a healthy macula
Supports retina health
Contains antioxidant lutein and zeaxanthin that may help defend against free radical damage
Ideal for those 40+ who may be concerned about eye health or have elderly family members who have eye health issues.
Directions:
Adults – Take 1 tablet a day with a meal, or as professionally prescribed.
Children under 18 years – Only as professionally prescribed.
If symptoms persist, come into the health shop for a chat or phone and make an appointment and see me as naturopath in my clinic.
Phone: 094264455