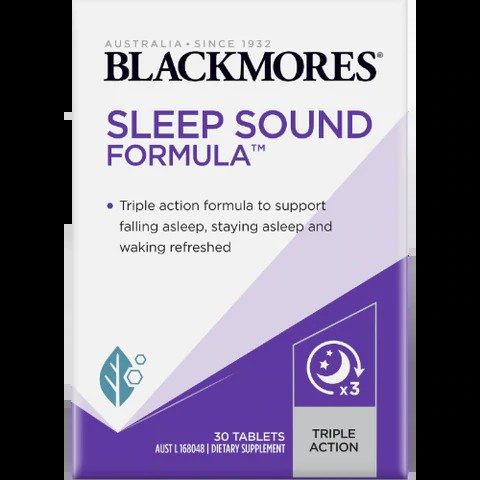 Blackmores Sleep Sound Formula 30 Tabs
Blackmores Sleep Sound Formula™ supports your body's natural ability to sleep soundly. It contains a clinically trialled valerian extract to improve sleep quality plus lemon balm and magnesium.
Helps you to fall asleep
Help you to sleep deeply and soundly
Allows you to wake refreshed
Additional Information:
Valerian is a mild sedative and sleep-promoting agent. Research shows that taking valerian orally reduces the time taken to fall asleep and allows you to wake refreshed, without a feeling of drowsiness. Valerian helps promote healthy sleep patterns and improves sleep quality. Continuous nightly use (for several days to four weeks) may be needed for significant effects.
Lemon balm has traditionally been used for the relief of tenseness, restlessness and irritability, for the relief of nervous sleep disorders and for its carminative and sedative actions.
Magnesium is an essential mineral and is important for the healthy function of the nervous system. Some research has reported that individuals suffering with magnesium deficiency tend to have a reduced time in deep sleep. Magnesium deficiency has also been associated with increased night time wakefulness.
Active Ingredients: Each Tablet contains:  
| | |
| --- | --- |
| Valeriana officinalis (Valerian) extract equiv. to dry root 1.2 g | 1200 mg |
| Melissa officinalis (Lemon balm) extract equiv. to dry leaf | 825 mg |
| Magnesium phosphate (magnesium 55 mg) | 266.2 mg |
 
Dosage: Adults - take two tablets 30 minutes to an hour before bedtime, or as professionally prescribed
Children under 12 - only as professionally prescribed

Warnings:
Not recommended for use during pregnancy and breastfeeding.
Not suitable for children under 12 years unless under the supervision of a healthcare professional .
Magnesium may decrease the absorption and efficacy of some medications. If taking tetracycline or quinolone antibiotics separate doses by at least 2 hours.
Contains glucose.
If symptoms persist, come into the health shop for a chat or phone and make an appointment and see me as a naturopath in my clinic.
Phone: 094264455