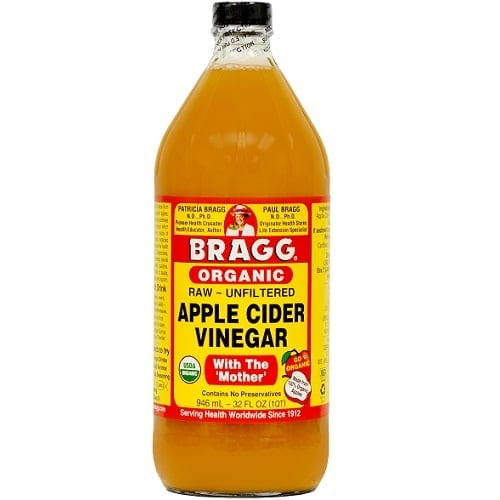 Apple Cider Vinegar (Braggs) 473 & 946ml
Made from the finest, delicious, healthy, organically grown apples. Raw Apple Cider Vinegar contains the amazing 'mother' of vinegar which occurs naturally as connected strand-like chains of protein enzyme molecules. It has been highly regarded throughout history. In 400 B.C. the great Hippocrates, Father of Medicine, used it for its amazing natural cleansing, healing, and energising health qualities. Naturally gluten-free and full of zesty natural goodness, it's a wholesome way to add delicious flavour to salads, veggies, most foods, and even sprinkle over popcorn.

Bragg is the result of a life time of campaigning about good health. When the 'engineered fast food' products of science and industry had captured the attention of most, Paul Bragg campaigned for a diet and lifestyle that focused on natural live foods and a healthy regime for a vital and long life. The Bragg healthy lifestyle philosophy is based on the motto: "You are what you eat, drink, breathe, think, say and do".