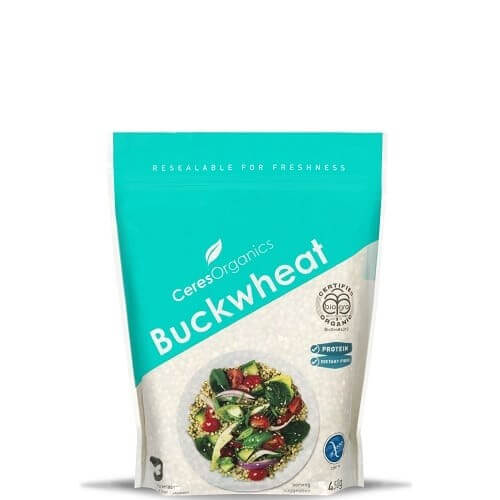 Buckwheat Cereal Ground (Ceres) 450g
Our buckwheat will make your heart skip a beat, not literally (that would be mega concerning), but figuratively, as it brings a wholesome, nutty punch to your meals. Now, we must inform you that buckwheat has nothing to do with wheat, it's actually a fruit seed related to rhubarb and sorrel – what a sneaky seed! This means it's a top choice if you're avoiding wheat, or if you just want a nutritional powerhouse on your plate.

Originating thousands of years ago in China, buckwheat has been a part of the diets of many Asian and European cultures for many years. It is used to make Japan's beloved soba noodles, delicious gallettes in France and blinis in Russia. A heavyweight in nutrition, each tiny seed is packed with the beneficial antioxidant flavanoids, including rutin, which may help protect against bad cholesterol and heart disease. It contains all the essential amino acids plus vital complex carbohydrates as well as iron, potassium, manganese, magnesium, calcium and plenty of dietary fibre. Roasting buckwheat before cooking creates an earthier, nuttier taste and aroma.