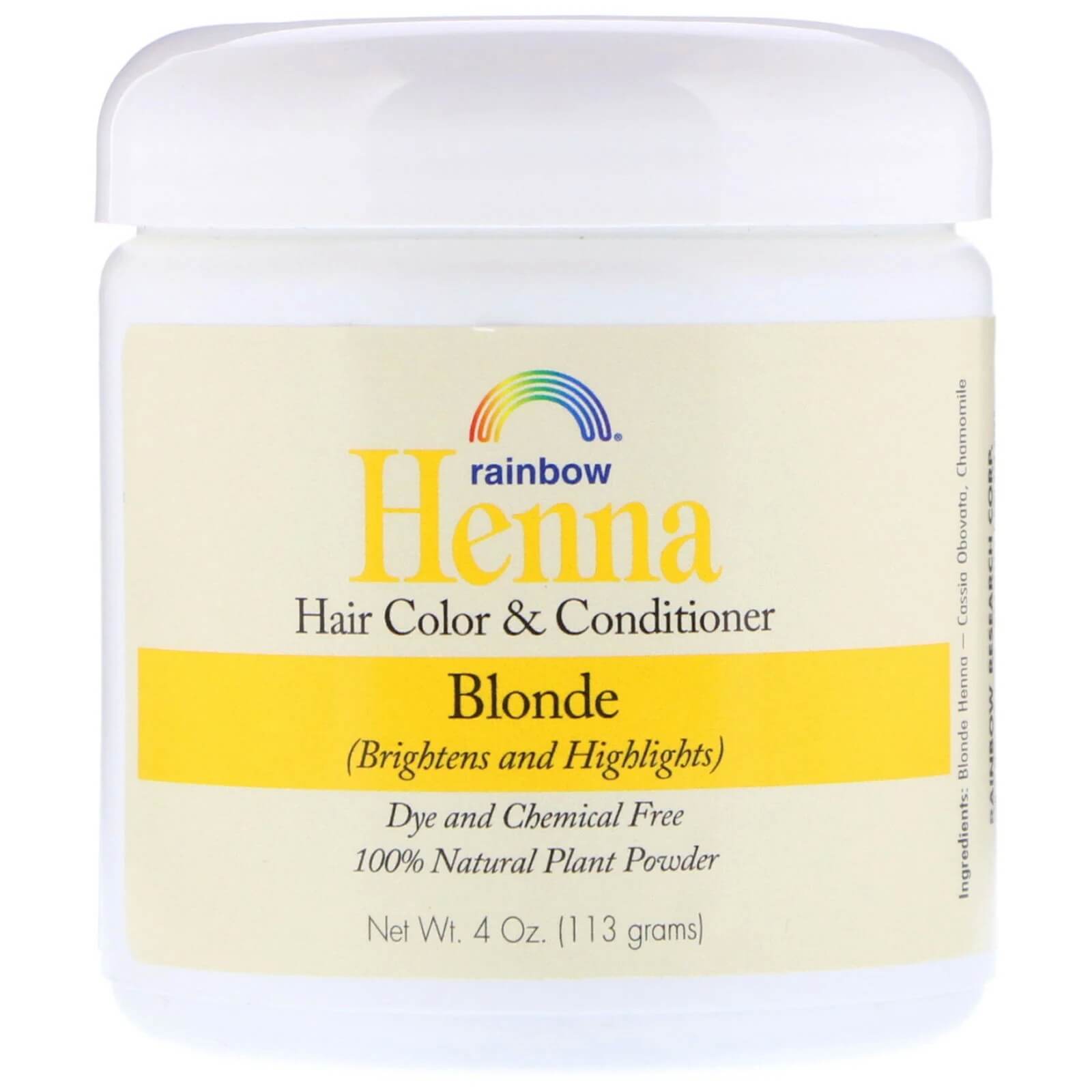 Rainbow Research Henna - Blonde
Rainbow Henna Blonde - Brightens & Highlights is a 100% natural botanical hair colour and conditioner which is free of all chemicals, preservatives and dyes.
Made from 100% plant material
Conditions, adds body & shine to all hair types
Can be used to cover grey or white hair
Fades out gradually
Lasts 4-6 weeks on average
Henna is a natural alternative to chemical hair colourings that are controversial to health and harsh on hair.
Rainbow Henna is 100% plant material with no additives, chemicals, preservatives, metallic salts or metals. 

Description
(Brightens and Highlights)
Dye and Chemical Free
100% Natural Plant Powder
100% Natural Botanical Hair Color and Conditioner Free of all Chemicals, Preservatives and Dyes
Made From 100 Plant Material
Conditions, Adds Body and Shine to all Hair Types
Can be used to cover Grey or White Hair
Fades out gradually, Last 4-6 Weeks on average (safe to use more frequently)
Available in 13 shades: Dark Brown, Medium Brown, Light Brown, Black, Red, Mahogany, Burgundy, Copper, Sherry, Marigold Blonde, Blonde, Strawberry Blonde and Neutral
About Henna:
Henna is the only natural alternative to chemical hair colorings that are controversial to health considerations and harsh on the hair. Rainbow Henna is 100% natural plant material- no additives, chemicals, preservatives, metallic salts or metals. Worldwide use of Henna has been practiced and documented for over 9000 years.
Red Henna comes from small shrubs, called Lawsonia, that are native to the Middle East, West Asia, and North Africa. The leaves are dried and then pulverized into a fine powder. We also use the plants: Indigofera, Cassia Obovata, Marigold & Chamomile Flowers to make the different shades. We choose only the finest botanicals from around the world to be used in our Hair Color.
Rainbow Henna coats the outside of each strand of hair. The shade of Henna is reflected through the hair while enhancing your hair's natural color. The cuticle is smoothed by Henna's sealing action, giving hair a polished look by making the light reflect off providing shine. Regular use of Henna can texturize the hair, giving it extra body- this becomes more evident with each application.
Rainbow Henna color will last approximately 4 to 6 weeks but is safe to use more frequently.
Suggested Use
Preparation Directions:
Rainbow Henna may be applied on wet or dry hair, but it is important that the hair be clean and free of any hair sprays, gels or conditioners. If you wish to shampoo first, towel hair dry before applying.
Pour Rainbow Henna Powder into a glass or plastic bowl. Use enough powder to cover the areas it is being applied to.
*Do not use a metal bowl or utensils*
Boil 8-16 oz of liquid (water, coffee or tea). Add the liquid gradually, using a wooden or plastic spoon mix thoroughly to reach a creamy yogurt like consistency. More liquid can be added if mixture is too thick or thickens up during application. You do not need to use all of the liquid prepared just enough to reach the right consistency.
To help cover grey or white hair mix powder with coffee or tea and 1-2 tbs of apple cider vinegar
*See below for specific instructions based on desired results
*Special Recipes and hints for use on grey hair to customize results:
Coffee or Black Tea (English Breakfast, Darjeeling, Ceylon): To help tone down red tones, deepen brown-red tones, or cover grey/white hair, substitute coffee/tea for water. Use brewed, black coffee not instant.
Coffee alternatives can also be used. Can be used with black, red and brown Henna shades.
Red Teas (Rooibos, Raspberry Leaf, Red Zinger): To help enhance red tones and make them more vibrant. Can be used with all Henna shades.
Chamomile Tea: To help enhance and bring out golden blonde highlights. Can be used with Blonde, Marigold Blonde and Strawberry Blonde Henna Shades.
For Dry Hair:
Add 1 egg, 2-4 tbsp olive oil, or 2-4 tbsp plain yogurt to the Henna mixture. Only select one of these options. These natural ingredients not only condition, but can help with the application and rinsing processes.
Neutral Henna: Use as a conditioner to help add body and shine to the hair. Neutral or "Clear" Henna does not deposit color. Mix with boiling water to desired consistency and apply to hair the same way as the color shades.
Application
You can wear plastic or rubber gloves to avoid staining your hands, although Henna does not typically stain or scalp. Henna is heat activated and we recommended using it shortly after it is mixed.
*Henna does not typically cause a reaction and does not contain any known allergens, however if you have sensitive skin or chemical sensitives a patch test on the skin is recommended before applying the full application.
Section hair. Sections should be about 1" thick.
Once Henna mixture is at a safe heat (warm to hot) begin at the scalp and paint on the Henna with a brush, applicator bottle or hand from roots to the ends.
Continue until all the hair is thickly coated with the Henna mixture.
Place a cotton or tissue band around the hairline (optional).
Cover the hair with a shower cap, plastic bag or plastic wrap to keep Henna on hair.
Wrap towel around the head turban style to keep in heat.
Timing
For best result, use a Salon dome dryer, Heat lamp, or Thermo Heat Cap
Leave on as follows:
Black, Red, Sherry, Mahogany, Burgundy, Dark Brown, Medium Brown, and Copper- with heat 45-60 minutes heat 60-75 minutes. Strawberry blonde, blonde , marigold blond, light brown and neutral-with heat 30-45 minutes; without heat 45-60 minutes.
When timing is completed, rinse thoroughly with hot water, then rinse with cool water. Follow with Rainbow Henna Shampoo and Conditioner. Rinse thoroughly and style. To see full results hair must be completely dried.
Timing may be increased if hair is resistant.
Hair products containing essential oils as the fragrance should not be used if coloring the hair with Henna. The essential oils will strip the Henna coating off of the hair shat causing the color to fade out more quickly.
Other Ingredients
Blonde henna - cassia obovata, chamomile.