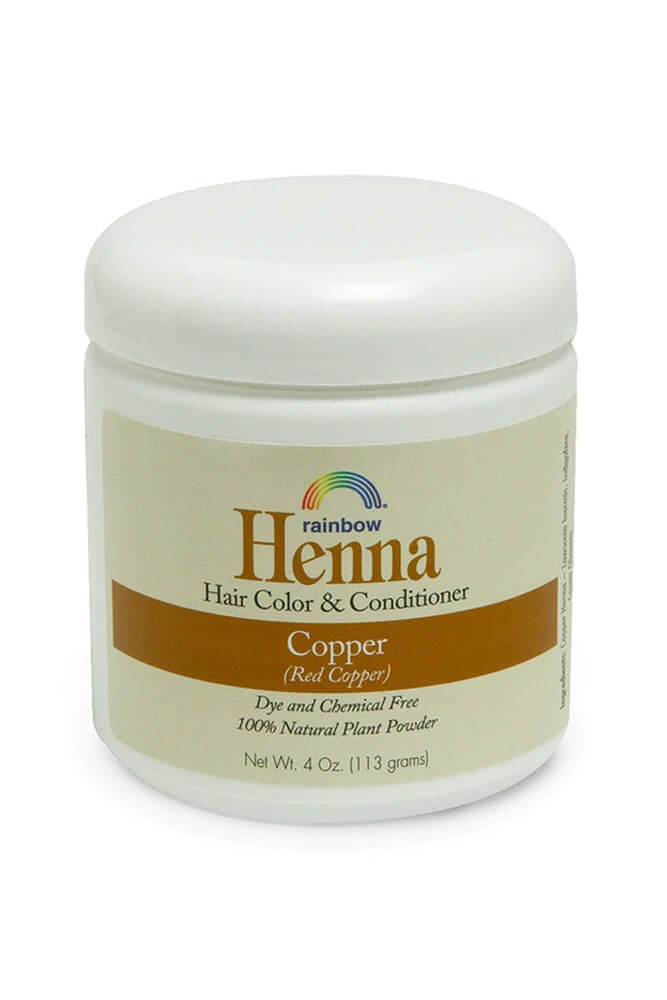 Rainbow Research Henna - Copper
Rainbow Henna Copper - Red Copper is a 100% natural botanical hair colour and conditioner which is free of all chemicals, preservatives and dyes.
Made from 100% plant material
Conditions, adds body & shine to all hair types
Can be used to cover grey or white hair
Fades out gradually
Lasts 4-6 weeks on average
Henna is a natural alternative to chemical hair colourings that are controversial to health and harsh on hair.
Rainbow Henna is 100% plant material with no additives, chemicals, preservatives, metallic salts or metals.

Ingredients

Copper Henna: 
Lasonia Inermis
Indigofera
Cassia Orbovata
Directions
Please see pull out label on container for detailed instructions.
Preparation: Boil 1-2 cups of liquid (water, coffee, or tea). Add the liquid gradually using a wooden or plastic spoon mix thoroughly to reach a creamy yoghurt like consistency. You may not use all the liquid; more liquid can be added if mixture is too thick or thickens up during application.   Application: Wear plastic or rubber gloves to avoid staining your hands, although henna does not typically stain the skin or scalp. Henna is heat activated and we recommend using it shortly after it is mixed.   It is important that the hair be clean and free of any hairsprays, gels or conditioners.
Store in a cool dry place.
For external use only.
Precautions
Henna typically does not cause a reaction and does not contain any known allergens, however a patch test on the skin is recommended before application.
Colour can vary from person to person, It is recommended to do a strand test to see exact results.
Do not use a metal bowl or utensil.
Do not use in the area of the eyes or if scalp has open cuts.
Hair products containing essential oils as the fragrance should not be used if coloring the hair with henna. The essential oils will strip the henna coating from the hair shaft causing the color to fade out more quickly.