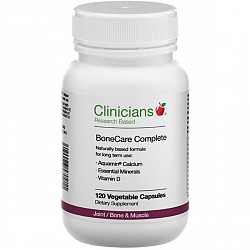 BoneCare Complete 120 Vcaps
Clinicians Bone Care Complete is a natural calcium and nutrient formula to support optimal bone health and bone nutrition. It contains an unique ingredient called Aquamin, a mineralized seaweed that is rich in bioactive calcium and trace minerals. Ideal as a long term Calcium supplement.
BoneCare Complete Benefits
Includes key bone nutrients to help promote stronger bones
Calcium absorption enhanced via vitamins D and K
Formulated to assist with bone health
Ideal as a long term calcium supplement

BoneCare Complete Features
Includes unique trace elements to support bone formation
Features high potency calcium and magnesium in a 2:1 ratio
High quality vegetable capsule ensures greater protection of encapsulated nutrients.
Contains plant-derived calcium and trace elements for greater bioavailability and absorption
Active Ingredients: Active Ingredients in each vegetable capsule:

Vitamin D3 (as cholecalciferol)
5
mcg
Vitamin K1 (phytomenadione)
250
mcg
Boron (from boron citrate)
375
mcg
Calcium (from Lithothamnion corallioides)
125
mg
Magnesium (from magnesium citrate)
53.8
mg
Manganese (form manganese amino acid chelate)
0.75
mg
Zinc (from zinc amino acid chelate)
2.5
mg

Aquamin also contains: nutrients involved in bone health, typically consisting of the following per capsule: Boron 12mcg, Copper 2mcg, Iodine 12mcg, Iron 250mcg, Magnesium 9mg, Manganese 27mcg, Potassium 1.7mg, Silicon 0.5mg, Sodium 1.2mg, Strontium 0.7mg, Sulfur 2.2mg, Zinc 5mcg.

No added: gluten, dairy, yeast, artificial colours or preservatives.

Dosage: Adults: Take 2 capsules twice a day with food
Warnings:
Warning: Avoid Clinicians Bone Care Complete if pregnant or taking anticoagulant medication such as warfarin without medical advice.
Pregnancy and Breastfeeding: Avoid during pregnancy as to date no safe tolerable upper intake for vitamin K has been established.

Extended Information: Bones are made up of hard, extremely dense connective tissue that is constantly rebuilding itself in order to maintain a balance between bone formation and bone loss. As such, skeletal tissue relies on the correct supply and balance of nutrients in order to maintain a healthy density. Food and population studies indicate that most people are not getting enough calcium from their diet, particularly women. A large body of evidence spanning over two decades has confirmed that high calcium intakes reduce age-related bone loss. For New Zealanders the daily intake of calcium is thought to average about 850mg per day. While these estimates are higher than American and Canadian statistics of 600mg/day2they still fall short of the recommended daily allowance (RDA) of 1200-1300mg/day for men and women over the age of 50.

Research has shown that mineral nutrition for healthy bones depends on more than just calcium; magnesium, trace minerals and certain vitamins also play a vital role in effective mineral fortification. Clinicians Bone Care Complete contains a unique ingredient called Aquamin a mineralized seaweed that is rich in bioactive calcium. Aquamin also contains a number of other minerals including magnesium, boron, copper, manganese, silicon and zinc - all of which play an important role in maintaining strong bones. In addition to Aquamin, Clinicians Bone Care Complete contains magnesium a macro mineral thought to be as important as calcium for bone health. Daily supplementation with 250mg or more of magnesium can help increase bone mineral density. The trace minerals boron, manganese and zinc positively affect bone health in a number of ways. For example, boron reduces urinary loses of calcium and magnesium and converts vitamin D to its active form. Manganese acts as a cofactor for a number of enzymes involved in healthy bone and cartilage tissue and zinc aids in bone formation and collagen synthesis. The fat soluble vitamins D and K enhance calcium absorption, increase bone formation and help reduce the risk of fractures. The vast array of nutrients in Clinicians Bone Care Complete can help address dietary insufficiencies, body acidity and bone health.