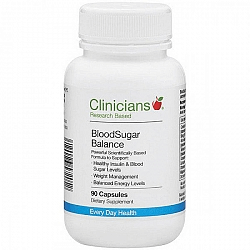 Clinicians BloodSugar Balance 90caps
Clinicians BloodSugar Balance provides essential nutrients to support healthy blood sugar levels, carbohydrate metabolism and insulin sensitivity.

Clinicians Blood Sugar Balance replaces InsulBalance. Now a superior formulation in a capsule to improve absorption, less dose required and at a lower price.

Clinicians BloodSugar Balance Benefits:
Nutrient support for maintaining healthy glucose and insulin metabolism
Chromium, magnesium and zinc to support insulin sensitivity and balance blood sugar levels
Provides a unique combination of herbs to help manage free radicals and support hepatic, glucose and insulin metabolism
Contains Green Tea and Grape Seed antioxidants that may assist with appetite and weight management
Contains Milk Thistle which may support healthy liver function to assist the liver metabolising carbohydrates and insulin
May assist with appetite and weight management


Clinicians BloodSugar Balance Features:
Trace minerals and macro minerals to support insulin regulation
Synergistic botanicals
Green Tea, Grape Seed and Milk Thistle
Supports carbohydrate and sugar uptake and metabolism
Safe to use alongside medication
Active Ingredients: Active ingredients now showing per capsule:

Camellia sinesis (green tea) ext. equiv. to dry leaf
14.4
g
[Standardised to not less than 176mg total tea polyphenol, 144mg catechin and 90mg EGCG (epigallocatechin gallate)]
Vitis vinifera (grape) ext. equiv. to dry seed [Standardised to not less than 32mg of proanthocyanidins]
4
g
Silybum Marianum (Milk Thistle) ext.equiv.to dry seed [Standardised to not less than Silymarin 27mg]
2.3
g
Cinnamomum cassia (Cinnamon) ext. equiv to dry bark
340
mg
Curcumin
15
mg
Chromium (III) chloride (equiv. chromium 167mcg)
0.85
mg
Magnesium citrate (equiv. magnesium 33mg)
215
mg
Zinc amino acid chelate (equiv. zinc 5mg)
25
mg
Also contains: Magnesium stearate, microcrystalline cellulose and silicon dioxide

No Added: gluten (or wheat), dairy, yeast, sugar, artificial colours, sweeteners, flavours or preservatives
Dosage: Adults: Take 1 capsule 2 to 3 times daily
Warnings:
Clinicians BloodSugar Balance is generally considered safe and well tolerated at the dose recommended. Check with your health professional before using in individuals on blood sugar lowering medications, as Clinicians BloodSugar Balance may have an additive effect.
Blood sugar and insulin levels should be monitored particularly in the first one to two months as medication requirements may change.
Exercise caution as curcumin may stimulate the gallbladder in people with gallbladder disease.
Pregnancy & Breastfeeding: Avoid in pregnant or breast feeding women as there is insufficient safety information on the herbs (cinnamon, grape seed and milk thistle) to recommended supplementation during this time.

Extended Information: Carbohydrates are the body's preferred source of energy. Once broken down into simple sugars, they are absorbed into the bloodstream and are taken up into the body's cells to be used to provide cellular energy for ever day metabolic processes. Insulin is a hormone produced by the pancreas. It binds to the cell walls of certain types of cells, allowing them to take up sugars and glucose from the bloodstream. These cells are called "insulin sensitive" cells. We all rely on this insulin sensitivity for our cells to utilise the energy from our food. In many individuals, this insulin sensitivity may decrease. Cells stop responding to the presence of insulin, which results in a continuous over-production of insulin but very little sugar or glucose can be taken up into the cells to be used as energy. Blood insulin levels increase together with blood sugar levels. This is known as "insulin resistance".

Causes of insulin resistance include high consumption of carbohydrates and sugars over an extended period of time, hormonal changes (especially in women), excessive alcohol consumption, high consumption of saturated fats (red meat, butter etc.). Insulin resistance is a precursor to type 2 diabetes and may require medical intervention for some individuals.

One can support a healthy balance naturally through: Diet: Reduce the amount of carbohydrates (especially refined carbohydrates and simple sugars). Reduce intake of fried fatty foods replacing saturated fats with unsaturated fats (omega 3 fish oils, flaxseed oil and olive oil). Exercise: Regular exercise (both aerobic and isotonic) may be helpful in reducing insulin resistance. A nutritional supplement designed to support the way the body uses insulin may also benefit those with signs and symptoms of insulin resistance. Clinicians BloodSugar Balance is indicated as nutrient support for maintaining healthy glucose and insulin metabolism.