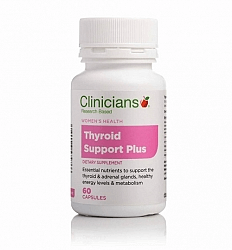 Clinicians Thyroid Support Plus 60 caps
Clinicians Thyroid Support Plus
with Withania Clinicians Thyroid Support Plus is a research based synergistic blend of herbs, vitamins, minerals and amino acids to support thyroid hormone production, healthy metabolism and energy levels.
Thyroid Support Plus Benefits:
A synergistic blend of ingredients to support healthy thyroid function, metabolism and energy levels
Contains essential nutrients known to support thyroid hormone production and conversion in the body
Contains the herb Withania for adrenal support – a gland that is heavily involved in thyroid health
Contains L-tyrosine and iodine, all are essential for healthy thyroid hormone production.
With vitamin A, an essential cofactor required for thyroid hormone manufacture
Includes selenium and B group vitamins which are required for thyroid hormone conversion and activity
Includes zinc which is required for the uptake and metabolism of the thyroid hormones
Thyroid Support Plus Features:
Can be used alongside nutritional supplements for adrenal support, multivitamins and antioxidants
Gentle energy support through the addition of Withania
All-in-one support for thyroid function
Does not need to be used long-term
Cost effective
Active Ingredients: Each gelatin capsule contains:
Withania somnifera (Indian Ginseng) - 3750 mg
Standardised to NLT 2.25mg with anolides 2.5 mg
Vitamin A (from retinol acetate) 1500IU 450mcg
Vitamin B2 (riboflavin) 2.5 mg
Vitamin B3 (nicotinamide) 7.5 mg
Vitamin B6 (pyridoxine hydrochloride) 2.5 mg
Vitamin B12 (cyanocobalamin) 25 mcg
Vitamin C (ascorbic acid) 125 mg
Vitamin D3 [4000IU] (as cholecalciferol) 10 mcg
Copper (from copper amino acid chelate) 250 mcg
Iodine (potassium iodide) 75 mcg
Selenium (L-selenomethionine) 50 mcg
L-Tyrosine 250 mg
Zinc (from zinc amino acid chelate) 7.5 mg

Also contains: magnesium stearate, silicon dioxide
No added: artificial colours, sweeteners, flavours or preservatives.

Dosage: Adults: 1 capsule twice daily or as directed.
Warnings:
Use Clinicians Thyroid Support Plus with caution in individuals taking warfarin as iodine may affect the blood's clotting ability and therefore may alter the affect of this medication.
Consult your health professional before taking this product if you have hyperthyroidism or are on thyroid medication.
Pregnancy & Breastfeeding: This product contains vitamin A. If pregnant or planning to become pregnant, do not take vitamin A supplements without consulting with your health professional. There is insufficient evidence regarding the use of the ingredients in Clinicians Thyroid Support during pregnancy and breast feeding, therefore it is not be considered safe to use during these times.

Extended Information: FAQs: Q. Can I take this while on thyroxine? Yes you can take Clinicians Thyroid Support, provided you get your thyroid levels checked on a regular basis
Q. Can I take it alongside a multivitamin?
Yes, a daily multivitamin can be beneficial to fill dietary gaps, and ensure an adequate intake of key vitamins and minerals to support everyday health.



If symptoms persist, come into the health shop, for a chat or phone and make an appointment and see me as a naturopath in my clinic.
Phone: 094264455