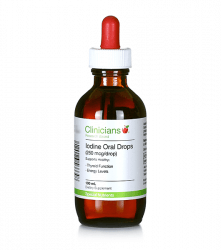 Iodine Oral Drops 100ml
Clinicians Iodine Oral Drops (4% dilution) is a dilution of the original Lugol's Iodine Solution, designed to support healthy thyroid function. Iodine is deficient in New Zealand soils and therefore supplementation may prove to be beneficial.
Clinicians Iodine Oral Drops Benefits

To help support healthy iodine levels
To support healthy thyroid hormone production and healthy thyroid function
Helps supports healthy energy levels
Iodine is low in New Zealand soils
Good iodine levels are essential for hormone balance and reproductive health
Clinicians Iodine Oral Drops Features

Provides a quality source of supplemental iodine in a form which the body can use
Liquid solution for enhanced oral absorption and utilisation in the body
Low toxicity when used correctly
Suitable for use in pregnancy and breastfeeding at the recommended daily dose
Active Ingredients: Active Ingredients in each drop:
Iodine 250mcg
Also contains: purified water. Potassium content: 47mcg in 1 drop.
Dosage: The iodine drop can be taken in a glass of fruit juice or other acidic drink (i.e. add 1 tablespoon of cider vinegar to a glass of water) and sip the drink throughout the course of the meal. Ensure the dropper is held horizontally to obtain the correct amount. Note: Absorption of the iodine may be enhanced by taking together with fruit juice.
Warnings:
Use Clinicians Iodine Oral Drops with caution in individuals taking warfarin as iodine may affect the blood's clotting ability and therefore may alter the effect affect of this medication.
Consult your health professional before taking this product if you have hyperthyroidism or are on thyroid medication.
Pregnancy & Breastfeeding: Clinicians Iodine Oral Drops is regarded as safe to take during these times under health professional supervision.
Dietary supplements are not a replacement for a balanced diet. Always read the label. Use as directed. Do not exceed the recommended daily dose. If symptoms persist, see your health professional.

Extended Information: Q. Can this be used as a skin test to see if I am short of iodine?
No, Clinicians Iodine Oral Drops is a dilution of Lugol's Solution. To do skin testing you would need to use full strength Lugol's Solution. Q. Can it be used for anti-radiation?
No it is only a dilution, so you would have to use a lot.
Q. What is the difference between Clinicians Iodine Oral Drops and Lugol's solution?
Clinicians Iodine Oral Drops are a 4% dilution of Lugol's Solution and is at the dosage allowed for OTC sales. Lugol's Solution (full strength) is available on prescription.
Q. Can you take too much iodine?
Yes, many people are iodine deficient but it can be toxic if you take too much. Follow the dosage prescribed by a health professional or the recommended dosage on the bottle.
If you are taking Clinicians Iodine Oral Drops you may also be interested in using the following Clinicians products alongside: Stress & Energy Support or MultiVitamin and Mineral Boost to provide extra nutrient support. (It is important to support the adrenal glands when helping the thyroid as they work together). Thyroid Support may be used with or alternatively to Clinicians Iodine Oral Drops. Iodine absorption may be enhanced by taking together with fruit juice or an acidic drink



If symptoms persist, come into the health shop, for a chat or phone and make an appointment and see me as a naturopath in my clinic.
Phone: 094264455