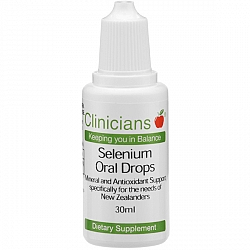 Selenium Oral Drops 30ml
Clinicians Selenium Oral Drops is a well absorbed liquid form of Selenium, offering mineral and antioxidant support specifically for the needs of New Zealanders as NZ soils are low in selenium content. Selenium is an essential antioxidant mineral that provides support for cell production and healthy immune function.
Clinicians Selenium Oral Drops Benefits
Powerful antioxidant to support healthy immune and cardiovascular function and hair, skin and nail health
Selenium also supports elasticity to help slow chemical ageing
Selenium also supports liver function, foetal development, and healthy neurotransmitter function
Contains sodium selenate, a highly bioavailable and absorbable form of selenium. It is an effective antioxidant, especially when combined with vitamin E
Individuals at risk of selenium deficiency are smokers, regular alcohol consumers and those not getting enough from their diets
Selenium is also involved in supporting thyroid hormone conversion and helps to produce coenzyme Q10
Clinicians Selenium Oral Drops Features
Formulated especially to address selenium deficiency in New Zealand diets. (In New Zealand, farm soils are deficient in selenium)
High potency selenium in liquid format for enhanced absorption
Oral drops ensure easy cost effective dosing
Suitable for most age groups
Suitable for use during pregnancy and breastfeeding
Active Ingredients: Active Ingredients in 3 drops

Selenium (sodium selenate) *elemental selenium 150mcg
Also contains: deionised water and methyl hydroxybenzoate.

Sodium content: 29mcg per drop
Dosage: Adults: Take 3 drops daily. Do not exceed this dosage
Children (under 12 years): Recommended dose is 3mcg per kg body weight per day, but never to exceed 150mcg per day
Warnings:
Selenium toxicity has only been reported for doses exceeding 1000mcg per day over extended periods of time. Do not exceed the recommended daily dose (150mcg) unless under supervision of a health professional.
Pregnancy & Breastfeeding: Clinicians Selenium Oral Drops is regarded as safe to take during these times under health professional supervision to ensure appropriate dosing.
Dietary supplements are not a replacement for a balanced diet. Always read the label. Use as directed. Do not exceed the recommended daily dose. If symptoms persist, see your health professional.

Extended Information:
Q. Can I take too much? Yes, too much selenium can be toxic. Do not take more than 150mcg per day Q. Can I get enough selenium from my diet? Yes you can. New Zealand soils are deficient in selenium and most of us can benefit from selenium supplementation. Most individuals do not require more than 150mcg per day. Check what is in your multivitamin before adding extra. You may also like to take the followings Clinicians supplements alongside Selenium Oral Drops: MultiVitamin and Mineral Boost, Family Vitamin C or Vitamin E (the effect of selenium may be enhanced by antioxidants vitamin C and vitamin E).

Selenium is a trace mineral and is essential for the production of glutathione peroxidase one of the body's most important antioxidant enzymes. Working as part of this enzyme, Selenium, helps protect delicate intracellular structures by preventing the formation of damaging free radicals. Dietary sources of selenium include Brewer's yeast and wheat germ, liver, butter, fish and shellfish, garlic, grains, sunflower seeds and Brazil nuts are all food sources for naturally occurring selenium. Herbal sources include alfalfa, burdock root, catnip, fennel seed,