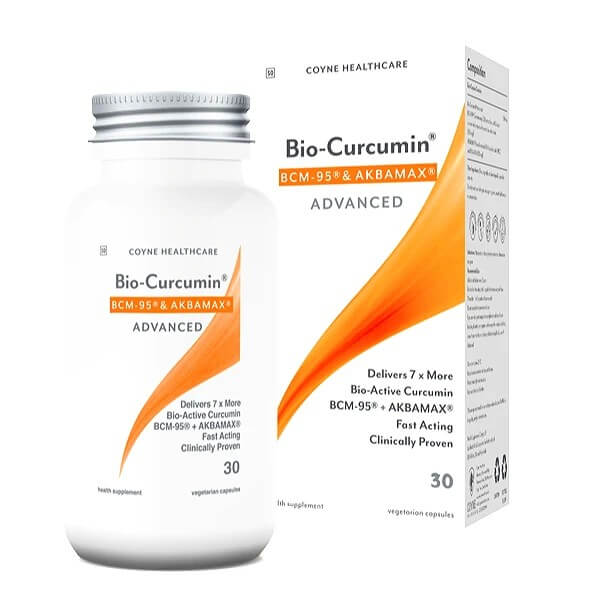 Bio - Curcumin Advanced 600mg 30 caps
About Supplements.co.nz Coyne Bio-Curcumin Advanced
Bio-Curcumin Advanced™ utilises BCM-95® the world's preferred bioavailable curcumin extract along with AKBAMAX®, a specialised and clinically studied Boswellia serrata extract.
BCM-95® has been proven to deliver up to seven times more free and bioactive curcumin into the bloodstream than regular curcumin extracts which remain active for over eight hours. Bio-curcumin is the most studied curcumin extract available today, trusted and recommended by health practitioners and used by millions of people across the world.
AKBAMAX ® has been developed to deliver a clinically precise ratio of boswellic acids which have been shown to effectively reduce inflammation.
BCM-95® in combination with AKBAMAX® has been demonstrated through clinical trials to offer a synergistic and potent natural anti-inflammatory effect.
Features:
Boosts the body's natural inflammation response
Supports joint health
GMO-Free
Sugar-Free
Gluten-Free
Soy Free
Suitable for vegetarians
BENEFITS INCLUDE:
Delivers up to seven times more bioactive/free curcumin into the bloodstream
A synergistic combination of curcumin + Ar-Turmerone oil, BCM-95® and a specialised Boswellia serrata extract, AKBAMAX®
40 Published studies making it the most studied curcumin extract in the world.
Produced using green energy and environmentally friendly ingredients.
Free from artificial additives.
Non-GMO and free from soya, sugar, polysorbate 80
Directions
Suggested Use: Adults and children over 12 years to take one to two capsules daily with food, or as recommended by a healthcare practitioner.
Indications: May assist or relieve symptoms related to inflammation.
Warnings: If you are taking anti-coagulant or anti-platelet medication, have a bleeding disorder or suffer from any other medical condition, consult your healthcare provider before taking Bio-Curcumin® BCM95®.
Do not exceed the recommended dose. Store at or below 25°C. Keep in an outer container until required for use. Protect from moisture. Keep out of reach of children.
Disclaimer: Neither this product nor the contents thereof are intended as a cure for any disease or condition. Always consult a licensed healthcare practitioner before using any new product.
Nutrition Information
Coyne Bio-Curcumin Advanced 30 Caps
Serving Size: 1 Capsule
Servings Per Container: 30
Amount Per Serving
BCM95(R) Bio-Curcumin™
300mg
Curcumina longa 25:1 extract (root) (std to 95% total curcuminoids complex with essential oils of tumeric rhizome by HPLC
300mg
Boswellia serrata extract AKBAMAX®
300mg
Other Ingredients
Vegetable cellulose (capsule), vegetable stearate, silica.
Allergen Advice: Contains no known allergens, artificial flavours or preservatives.