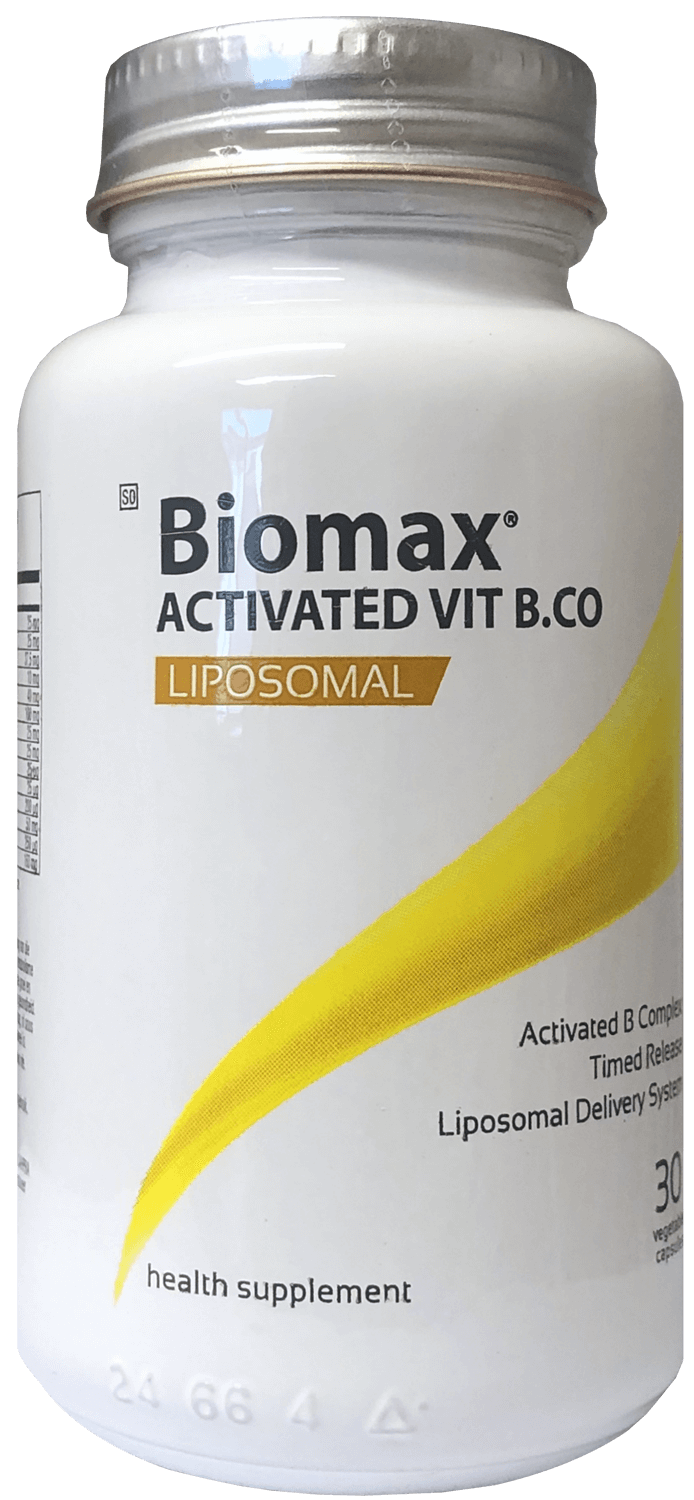 Biomax Act Vit B liposomal 500mg 30 caps
Biomax® Activated Vitamin B Complex Liposomal® supports energy metabolism, normal function of the nervous system, mental performance, metabolism of carbohydrates, proteins and fats, normal growth and development and maintaining good health. Biomax® Activated Vitamin B Complex Liposomal® has been developed with the latest scientific understanding of vitamin Bs and human health. Delivering a full and potent B-complex via specialised liposomal technology, this patented formulation is able to overcome the challenges of conventional vitamin B supplementation.

Quite simply, Biomax® Activated Vitamin B Complex Liposomal® is the next-generation innovation in vitamin B complex supplementation. It contains Quatrefolic®, a natural, concentrated form of activated folate (vitamin B9), which is a crucial nutrient for all humans.

Naturally produced and easily absorbed, Quatrefolic® is regarded as the best supplemental form of folate. While others must be converted multiple times within your body before they can be utilised, Quatrefolic® delivers the bioactive form of folate, known as methyltetrahydrofolate (or 5-MTHF), which is ready to be used by your body without conversion.

Liposome entrapment technology is used which further enhances the absorption and bioavailability of this superior B Complex.

Benefits:
• Contains activated Vit B Complex
• Liposomal Delivery System
• Enhanced absorption and bioavailability
• Contains Quatrefolic – bioactive form of folic acid
• Time Released
• Supports energy metabolism, nervous system and cognitive health


Failing to get enough Vitamin B on a daily basis can have a damaging impact on your body. Biomax® Activated VIT B.CO Liposomal® promotes cardiovascular health and homocysteine balance, which is critical for maintaining optimal methylation (a crucial physiological process that has far-ranging effects on the body).
Consume 1 capsule per day or as recommended by your healthcare professional
Per Capsule:
Thiamine (B1) 25mg
Benfotiamine (B1) 25mg
Riboflavin 5'-phosphate (B2) 37,5mg
Niacin (B3) 10mg
Niacinamide ascorbate (B3) 40mg
Pantothenic acid (B5) 100mg
Pyridoxine HCI (B6) 25mg
Pyridoxal 5'-phosphate (B6) 25mg
Methylcobalamin (B12) 25μg
Adenosylcobalamin (B12) 25μg
Methyltetrahyrofolate (Quatrefolic™) 200μg
Inositol 50mg
Biotin (B7) 250μg
Phosphatidylcholine 160mg

Other Ingredients:
Vegetable cellulose (capsule), vegetable stearate
If symptoms persist, come into the health shop, for a chat or phone and make an appointment and see me as a naturopath in my clinic.
Phone: 094264455