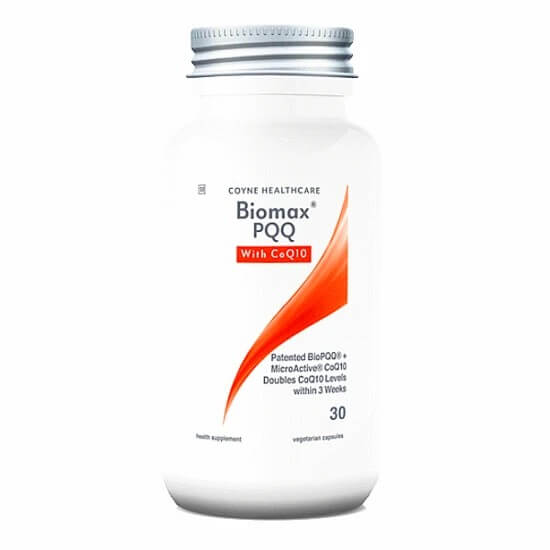 Biomax - CoQ10 + PQQ 360mg 30caps
Pyrroloquinoline quinone (PQQ) regarded as one of the most powerful anti-aging and cognitive health supplements on the market. Discovered in the late 1970s in Japan PQQ is a small quinone molecule with now 100's of clinical studies and real-world evidence supporting its positive effects on human health and wellbeing.
Biomax PQQ exclusively utilises patented and proven BioPQQ®. This is the natural form of PQQ which is produced via fermentation and has the largest body of clinical evidence to support its effects. Other forms of PQQ exist which are clinically unsupported and produced synthetically. BioPQQ® can be immediately identified via the prefix "Bio". When choosing to produce our PQQ supplement we choose to work with the best quality and clinically proven PQQ available and this is why we choose BioPQQ®.
Clinical evidence has demonstrated the powerful synergistic effect between CoQ10 and PQQ. When looking at the action of these two substances it makes complete sense to utilise them simultaneously. We, therefore, further enhanced Biomax PQQ with an active dose of MicroActive® CoQ10 producing the ultimate combination.
Features:
Promotes spontaneous production of new mitochondria
Supports youthful aging
GMO free
Gluten Free
Soya Free
Dairy free
100% Vegetarian
Free of chemical pesticides, herbicides, fungicides, and synthetic fertilizers
Proven Benefits of PQQ:
Exclusively utilises proven and patented BioPQQ®
Clinical dose of 20mg of BioPQQ.
Clinical dose of MicroActive CoQ10 ® proven to double CoQ10 levels in 3 weeks.
Powerful mitochondrial, cellular and cognitive health combination.
Clinically proven.
100% Natural.
Directions
Suggested Use: Take 1 capsule daily in the morning with or after food, or as recommended by a healthcare practitioner.
Indications: May provide general support for heart health. Supports cellular energy, wellness, and vitality.
Warnings: If you are taking anti-hypertensive medication or have any bleeding disorder, consult your healthcare professional before using BioMax PQQ with CoQ10. Not recommended for use with Warfarin or during pregnancy or breastfeeding. Use within 90 days of opening. Store in a cool, dry environment and avoid exposure to light. Keep out of reach of children.
Disclaimer: Neither this product nor the contents thereof are intended as a cure for any disease or condition. Always consult a licensed healthcare practitioner before using any new product.
Nutrition Information
Coyne Biomax PQQ with CoQ10 30 Caps
Serving Size: 1 Capsule
Servings Per Container: 30
Amount Per Serving
BiomaxPQQ and CoQ10 Complex (As MicroActive β-cyclodextrin and ubiquinone with BioPQQ®, standardised to 72mg of CoQ10 and 20mg BioPQQ®)
300mg
Other Ingredients
Vegetable cellulose (capsule), vegetable stearate, silica.
Allergen advice: Contains no known allergens, artificial flavours or preservatives.