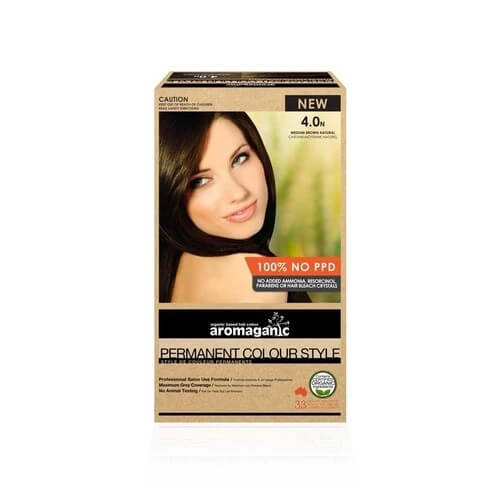 Aromaganic Hair Colour 4.0 Medium Brown
Aromaganic Hair Colour Medium Brown 4.0
Designed to help make colouring your hair at home a little easier. Professional permanent change hair colour with excellent full grey coverage and 100% no PPD or Ammonia. Suitable for most hair types.
Infusing the latest cosmetic ingredients with pure botanicals. Each of our 16 hair colours contains 33 ingredients purchased and certified organic in Australia. Most importantly, Aromaganic provides a PPD, Ammonia and Resorcinol free hair colour option for those who are allergic to those chemicals.
Features
Professional use salon formula
Gentle on the hair and scalp
Brilliant and radiant tones
Long lasting hair colour
Full Colour coverage
Ready in 30 minutes
Suitable for use on both natural and coloured hair
IMPORTANT! PLEASE CONSIDER THE FOLLOWING BEFORE CHOOSING THIS SHADE
This hair colour:
Is designed as a maximum grey coverage product.
Will not lighten greys that contain natural pigment that are darker than this shade.
Has coverage that is more intense so the final result might possibly appear slightly darker than expected.
IS NOT suitable for reliable lightening techniques like highlights and balayage.
Not designed to remove previous colour. You will need specialised hair bleach applied by a professional.
Will not lighten your natural hair, Except, in extremely rare and unusual cases where lightening by 1- 2 shades has occurred due to the extent of existing hair damage, product build up, adverse reaction with previous colour still in the hair, and finally room and scalp temperature at the time of application.