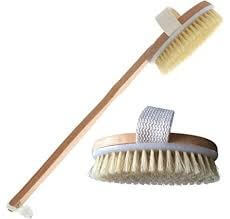 Long Handled Bath Brush Detachable Head
Long Handled Bath Brush Detachable Head
NEED SOME EXTRA LENGTH to reach your itchy back? This is the 20" EXTRA LONG ERGONOMIC TOOL for you!
LOVE YOURSELF ENOUGH: Great stress reliever - helps clear your mind while cleaning your whole body.
GENTLY EXFOLIATE YOUR SKIN - Natural Boar Bristles remove dead skin leaving it feeling soft + smooth
GREAT FOR BACK SCRATCHING, removing dead skin, foot scrubbing, clearing back acne
High quality beechwood body brush - wet / dry use. Great for body brushing, exfoliating, massaging or shower / bath use.
Specially coated wood for protection. Extra long natural bristles for a great scrub!
Long reaching 42 cm length, ideal for reaching your back or feet. Detachable head 13 x 6.5cm providing effective hand brush. Natural bristles 1.5cm medium soft boar bristles providing gorgeous rub.
Ideal to use daily for glowing skin - invigorating, improves blood circulation, lymphatic flow, detoxification, skin tone, reduces dry skin and cellulite.