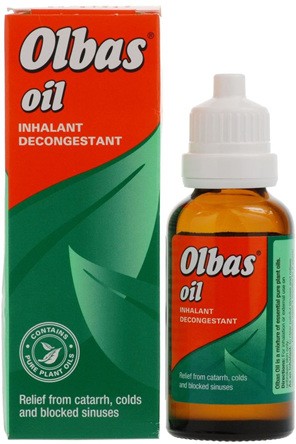 Olbas Oil 28ml
Olbas Oil is a remedy, of Swiss origin, for congestion in the chest and nose, some hayfever relief (in certain cases) and also for muscle ache via massage. It is made from a mixture of several different essential oils and has been marketed since before 1916. The name is a contraction of Oleum Basileum, "oil from Basel".
Olbas Oil is a mixture of essential plant oils used to help clear the nasal passages by inhalation and may be applied to the skin as a rub to relieve stiffness and muscular tension.
Directions:
For inhalation or external use on unbroken skin only.
Children age 3 months-2 years:
Add 1 drop to a tissue and hold close to the childs nose allowing them to breathe the vapours. 
Adults and children 12 and over:
Add 2-3 drops to a tissue and inhale the vapours
As a rub for muscular tension and stiffness (age 12 and over)
massage into affected area 3 times a day 
 
Ingredients:
Cajput oil, Clove oil, Eucalyptus Oil, Juniper Berry Oil, Levo Menthol, Methyl salicylate, Mint Oil, Partly Dementholised.