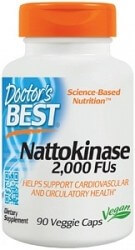 Doctor's Best Nattokinase 2,000 FUs 90 Vege Caps
Doctor's Best - Nattokinase 2,000 FUs Capsules 90   Nattokinase is an enzyme derived from the 'natto bean' a traditional fermented soy food in Japan. It has been valued as a folk remedy in Japan for over 1000 years. During the natto production process, B. subtilis natto, a friendly bacteria, ferments boiled soybeans, releasing nattokinase. Doctor's Best Nattokinase contains pure nattokinase enzyme with all Vitamin K removed. Nattokinase helps maintain healthy circulation and essential for supporting the cardiovascular system.  

Benefits:
Supports healthy circulation and helps decrease blood clots
Contains nattokinase a fibrinolytic enzyme which has the ability to break down fibrin, a blood clotting protein
Helps improve oxygen flow to the body's tissues
Helps increase nutrient supply
Promotes all round health for heart, brain and muscles
May assist with cardiovascular disease, poor circulation, fibromyalgia, poor memory
Provides therapeutic levels of active enzyme
Support for circulation and cardiovascular disease
Studies have shown that nattokinase is the ingredient contained in natto that imparts the circulation-enhancing effect. Nattokinase helps the body keep blood flowing in a healthy way, promoting all round health for the heart, brain and muscles, by increasing circulation and therefore much needed oxygen to all organs. Doctor's Best Nattokinase has had the vitamin K removed since Vitamin K assists with blood coagulation.
Each 1 Veggie Cap Provides:
Nattokinase (Enzyme activity fibrinolytic units) 2,000FU
Other Ingredients: Modified cellulose, (vegetarian capsule), maltodextrin, magnesium stearate (vegetable source).


Directions:
Adults: Take 1 capsule 2 times daily, between meals, or as recommended by a healthcare practitioner.
Precautions:
Do not take this product if you are pregnant, breastfeeding or allergic to soy. 

If taking blood thinning medications consult with a healthcare practitioner prior to use.

Store in a cool dry place.

Always read the label and use as directed. If symptoms persist see your healthcare professional.