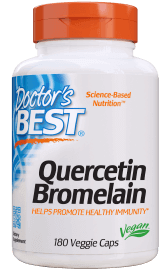 Doctor's Best Quercetin/Bromelain 180 Vege Caps
Doctor's Best Quercetin/Bromelain 180 Vege Caps

Helps promote healthy immunity.
Quercetin helps ensure appropriate immune response, inhibits formation of free radicals and promotes circulatory health in part by supporting the integrity of small blood vessels.*

Bromelain complements quercetin for appropriate immune response and cardiovascular health, while also promoting joint comfort.*

Non-GMO / Gluten Free / Soy Free / Vegetarian / Vegan.