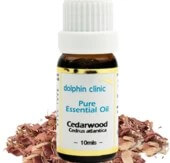 Cedarwood 10ml
Cedarwood Oil 10ml

Ailments: Acne, Dandruff, Urinary Tract Infections
Useful for: Popular male/woody aroma. Versatile with many uses. Lovely base note oil often used to balance our essential oil blends. 
Botanical Name: Cedras atlantica
Plant Part: Wood
Extraction Method: Steam Distillation
Country of Origin: Morocco
Caution: Use diluted as it can irritate sensitive skin. Do not use if pregnant.