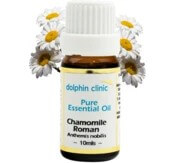 Chamomile (Roman) Oil 10ml
Chamomile (Roman) Oil 10ml
Useful for:  A very versatile oil! Abdominal Pain, Abcesses, Allergies, Chilblains, Cold Sores, Dysmenorrhea, Earache, Eczema, Headache, Pregnancy, Tonsillitis, Toothache, Urinary Tract Infection. Can be used undiluted on skin with caution.
Botanical Name: Anthemis nobilis
Plant Part: Flower
Extraction Method: Steam Distillation
Country of Origin: UK
Note: Non-toxic and non-irritant.
Caution: Avoid during first trimester of pregnancy.