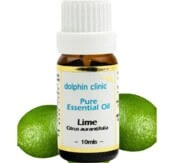 Lime Oil 10ml
Lime Oil 10ml


Heals Minor Wounds and Prevents Infection.
Protects Against Cold and Flu.
Alleviates Pain From Toothaches.
Treats Acne.
Stimulates Digestive System.
Maintains Healthy Respiratory Function.
Reduces Stress.
Maintains Healthy Immune System Function.

Botanical Name: 
Citrus aurantifolia

Plant Part:
 Skin and Rind

Extraction Method:
 Cold Pressed

Country of Origin:
 Australia



Caution:
 Phototoxic. Should not be used prior to exposure to sun.