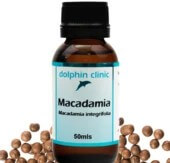 Macadamia Nut Oil 50ml
Macadamia Nut Oil 50ml

Useful for: One of the most suitable vegetable oils for massage as it diffuses very well into the skin leaving no greasy feeling behind. Its fluidity gives it extraordinary penetrating power. It is a naturally high in antioxidants which makes it ideal for nourishing and moisturising the skin.
Botanical Name: Macadamia integrifolia
Extraction Method: Cold pressed nut extracted oil.