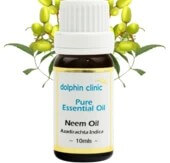 Neem Oil 10ml
Neem Oil 10ml

Useful for: Insect repellent. Headlice. Used to deter bugs from outside your home or your garden.  Odour reminiscent of garlic and peanuts.

Botanical Name: Azadirachta indica

Plant Part: Seed and Fruit

Extraction Method: Cold pressed

Country of Origin: India
Cautions: Can cause drowsiness or dizziness in large doses. Can cause skin sensitivity. High toxicity. Do not use if pregnant.