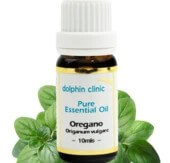 Oregano Oil 10ml
Oregano Oil 10ml

Useful for: One of the most potent and powerful essential oils. Anti-viral. Has been used for centuries in traditional practices. Oregano has been used for medicinal purposes since the time of Greek physicians Hippocrates and Maimonides, who prescribed it to their patients for their respiratory and digestive ailments. Commonly used for respiratory infections and in household cleaning and disinfecting.

Botanical Name: Origanum vulgare

Plant Part: Leaves

Extraction Method: Steam Distilled

Country of Origin: 
Cautions: Can cause drowsiness or dizziness in large doses. Can cause skin sensitivity. High toxicity. Do not use if pregnant.