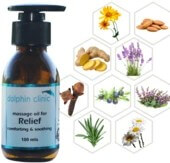 Pain Relief 100ml
Relief (Pain) 100ml

Useful for:  This product has been used successfully for aches and pains. Use as a massage oil or apply to affected areas. 

Blend: Rosemary, Clove Bud, Ginger, Lavender, Wintergreen, Chamomile, Juniper Berry & Clary Sage pure essential oils with cooling Menthol, blended in Almond and Arnica.


Caution: Do not use if pregnant. Avoid if you suffer from high blood pressure or epilepsy.