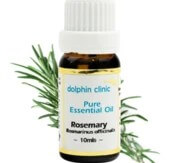 Rosemary Oil 10ml
Rosemary Oil 10ml

Useful for: It may reduce airborne infections and is ideal for bronchial infections, coughs and sinus congestion. Also constipation, dandruff, headache, mental fatigue.
Botanical Name: Rosmarinus officinalis

Plant Part: Whole Plant

Extraction Method: Steam Distilled

Country of Origin: France

Cautions: Do not use if pregnant. Not suitable for sufferers of Hypertension (High Blood Pressure) or Epilepsy.