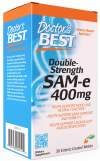 Doctor's Best SAMe 400mg Double Strength 30 tabs
Doctor's Best SAMe 400mg Double Strength This is a double-strength SAM-e formula providing 400mg per tablet. Doctor's Best SAM-e has been shown to support mood, brain health, and mental focus. It is essential for the healthy metabolism of the major brain transmitters' dopamine, serotonin, and norepinephrine. In addition, SAM-e supports joint comfort and mobility as well as supporting liver health and detoxification. SAM-e effectiveness has been published in 18 controlled human studies published over 40 years.
S-Adenosyl Methionine (SAM-e) is produced by the body from ATP and the amino acid methionine and is one of the most important methyl donors in the central nervous system. Methylation (donation of methyl groups) is an essential process in ensuring the proper function of a number of organ systems. SAM-e is involved in numerous biochemical reactions in tissue including the liver, joints, and brain. SAM-e is also required for the synthesis of critical neurotransmitters and hormones.
Doctor's Best SAM-e uses pharmaceutical grade materials. SAM-e is optimized for potency, stability, and to survive the stomach acid and reach the intestine (where it is absorbed).
Each Tablet Provides:
S-Adenosyl Methionine (from SAM-e tosylate disulfate) 400mg

Other Ingredients: Cellulose, methacrylic acid copolymer, glyceryl behenate, magnesium silicate, triethyl citrate, titanium dioxide, magnesium stearate, mannitol, glycerol palmitostearate, silicon dioxide, medium chain triglycerides, sodium carboxymethyl starch and iron oxide. 
Gluten-free, soy-free, vegetarian and vegan.
Directions
Adults: Take 1 tablet daily away from food, or as recommended by a healthcare practitioner. Do not chew or crush tablet.
Precautions
Individuals using antidepressant medications should consult with their healthcare practitioner prior to using this product.

Individuals diagnosed with Bipolar Disorder should avoid supplementing with SAM-e. 

Do not use if pregnant or breastfeeding.

May cause gastrointestinal discomfort in a small percentage of people.

Always read the label and use as directed. If symptoms persist see your healthcare professional.
If symptoms persist, come into the health shop, for a chat or phone and make an appointment and see me as a naturopath in my clinic.
Phone: 094264455