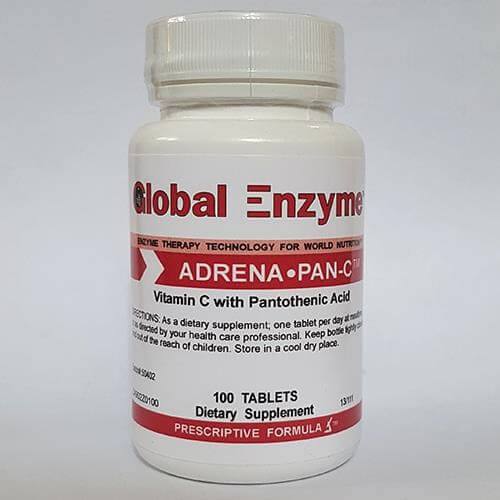 Adrena Pan C 100 tablets
Adrena-Pan C provides adrenal and spleen nucleic acids to support adrenal gland function. In response to stress, the body benefits from nutritional sources of nucleic acids.
Indications:
Adrenal exhaustion
Stress
Chronic fatigue
Electrolyte imbalance
Hypoglycaemia

Directions for Use:
Mild Stress: Take one tablet with breakfast, lunch and dinner.
Moderate Stress: Take two tablets with breakfast, lunch and dinner.
Children over five years: Crush one tablet and add it to a smoothie once a day in the morning.
Contraindications or Warnings:
No known contraindications or medicine interactions
Pregnancy: Suitable for use during normal pregnancy
Breastfeeding: Suitable for healthy breast feeding mothers where no contraindications are present in the infant
Ingredient Profile:
Vitamin C (as ascorbic cacid] 300mg
Pantothenic Acid 15mg
Bovine nucleic acids and peptidesIs (spleen) 100mg
Bovine nucleic acids and peptides (adrenal) 50mg
Other ingredients:
Magnesium stearate
Microcrystalline cellulose (avicel)
Methyl cellulose (methocel)
Pepsin