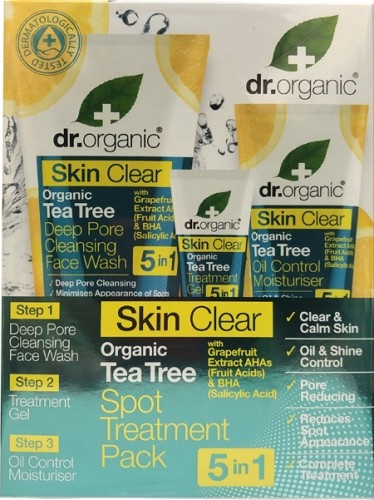 Skin Clear Spot Treatment Pack 5 in 1
Dr Organic Skin Clear Tea Tree Spot Treatment Pack
provides a truly ground-breaking three-step treatment to provide the skin with an invigorating, refreshing, deeply-cleansing lift.
Unique proprietary blend of bioactive, organic and natural ingredients.
Contains Deep Pore Cleansing Face Wash (125ml), Treatment Gel (10ml), and Oil Control Moisturiser (50ml).
Its three-step treatment exfoliates, clears and calms problematic skin, and helps reduce the appearance of spots.
Directions:
For optimal results use as part of your daily skin clear regime.
Deep Pore Cleansing Face Wash: Wet face then gently massage a small amount in circular motions, focusing on the forehead, nose and chin. Rinse with cool water.
Treatment Gel: Apply to affected area as and when required.
Oil Control Moisturiser: Apply daily after cleansing.
Warnings:
Due to the ingredient's natural origin, colour and consistency may vary from batch to batch. This does not affect the quality of the product.
Not for internal use.
Avoid contact with eyes.
Do not apply to broken or irritated skin.
If sensitivity occurs discontinue use.
Avoid this product if you are allergic or sensitive to any of the ingredients.
Keep out of reach of children.
Do not use on animals.
Store in a cool dry place.