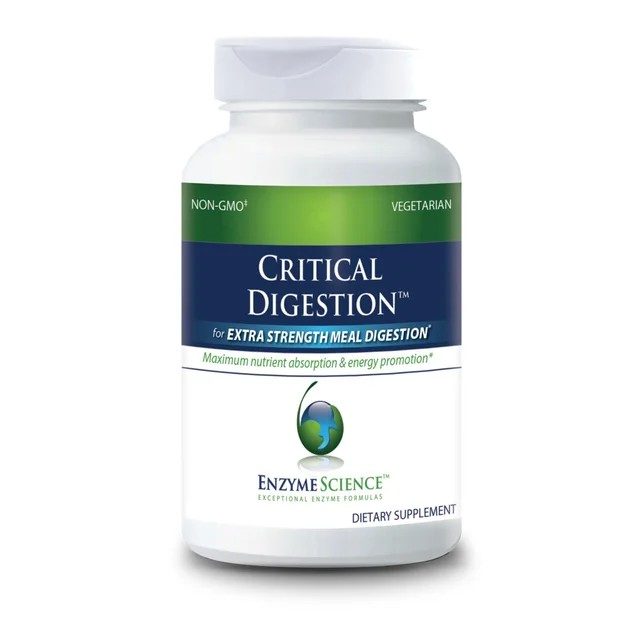 Critical Digestion
Critical Digestion is an excellent formula that supports the entire digestive process. It is a dynamic enzyme blend that cover all of the building blocks of food to support maximum breakdown, nutrient absorption and energy promotion. Enzyme supplementation supports the body in breaking down food more efficiently, eliminating occasional discomforts like gas, bloating and indigestion, while also helping to ensure that your body is getting the fuel it needs to for you to feel at your optimum. Take 1 capsule per meal alongside your first mouthful of food. More may be taken as recommended by your healthcare practitioner.
Serving Size: 1 Capsule
Amount Per Serving
Amylase Thera-blend™ ... 23, 000 DU
Protease Thera-Blend™ ... 75, 000 HUT
Glucoamylase ... 50 AGU
DPP-IV ... 250 DPPU
Alpha Galactosidase ... 500 GalU
ATPro™ Blend ... 78mg
ATP, Magnesium Citrate, Alpha Lipoic Acid, CoQ10
Lipase Thera-blend™ ... 4, 000 FCCFIP
Cellulase Thera-Blend™ ... 1, 500 CU
Lactase ... 900 ALU
Beta Glucanase ... 25 BGU
Xylanase ... 1, 000 XU
Maltase ... 200 DP
Invertase ... 535 SU
Pectinase ... 150 Endo-PGU
(W/ Phytase)
Hemicellulase ... 50 HCU
Probiotics Blend ... 1 Billion CFU
L. acidophilus DDS-1, L. rhamnosus, L. casei, L. gasseri, L. plantarum, L. bulgaricus, L. salivarius, L. paracasei
Other Ingredients: 100% vegetarian capsule (cellulose, water)
Contains NO: Dairy, egg, preservatives, salt, sucrose, soy, wheat, yeast, nuts, corn, gluten, casein, potato, rice, artificial colors or flavors
Consult a physician prior to use if you are pregnant or nursing.
Keep closed in dry place; avoid excessive heat.
Keep out of reach of children.