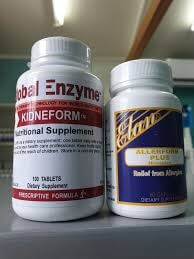 Kidneform 120 tabs
Kidneform is a combination formula that provides the broadest possible nutritional support for the entire detoxification and repair mechanisms of the body, with particular emphasis on the kidneys. Kidney problems can cause blood pressure anomalies, systemic toxicity and electrolyte imbalances. Kidneform is indicated for:
Renal Hypertension
Urinary Tract Infections
Toxaemia and Fluid Retention
and other disorders - seek naturopathic advice.
Directions: One tablet daily with food.