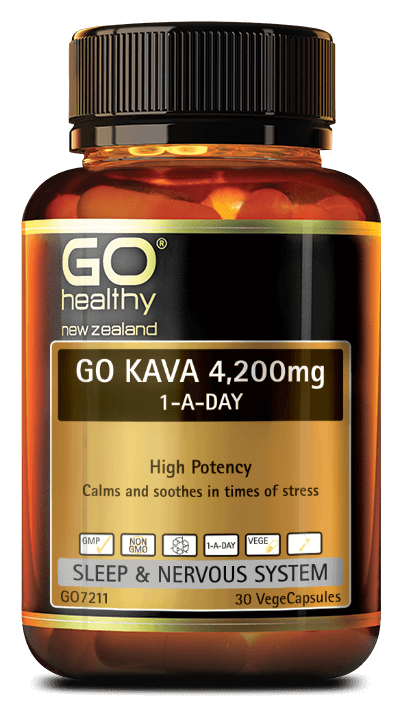 GO KAVA 4,200mg 1-A-DAY 30 Vcaps
GO KAVA 4,200mg 1-A-DAY is designed to support the body through times of stress, worry and when feeling frazzled and overwhelmed. This non drowsy formula calms and soothes the nervous system during times of increased mental and physical stress. A relaxing formula that supports calm, as well as a restful sleep. GO Kava 4,200mg 1-A-Day contains sustainably cultivated Kava.
Helps the body to cope with stress and worry
Calms and soothes during times of mental and physical stress
High strength, water extracted Kava
Convenient 1-A-Day VegeCapsule dose
ingredients Kava (Piper methysticum) Equiv. root and rhizome dry 4,200mg. Equiv. to kavalactones 60mg. Made by GO Healthy in New Zealand from select imported ingredients. sizes Available in 30 VegeCapsules suggested dose
Adults: Take 1 VegeCap daily. Best taken before bed, or as directed by your Healthcare Professional.
safety information
Not recommended for long term use (6 weeks at one time maximum). Not to be taken during pregnancy or lactation. Avoid if diagnosed with Hepatitis or Parkinson's Disease.
Always read the label. Take only as directed.
MEDICINE INTERACTIONS: If taking prescription medication or if in doubt, please consult with your Healthcare Professional.