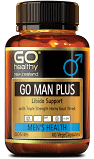 GO MAN PLUS 60Vcaps
GO MAN PLUS is designed to enhance sexual energy, supporting a healthy libido, improving stamina and energy in times of need. Horny Goat Weed is well known for supporting healthy sexual function.
Powerful sexual enhancer
Supports healthy sexual function
Supports healthy testosterone production
VegeCap Advantage
ingredients Horny Goat Weed ext. equiv. to 15,000mg, Muira Puama equiv. to 2,000mg, Damiana ext. equiv. to 400mg, Ginkgo ext. equiv. to 1,000mg, Tribulus ext. equiv. to fresh fruit 7,000mg, Korean Ginseng ext. equiv. to root 500mg, Saw Palmetto ext. equiv. to fruit 100mg, Deer Velvet 100mg, L-Arginine 100mg Made by GO Healthy in New Zealand from select imported ingredients. sizes Available in 30 and 60 VegeCaps suggested dose
Adults: Take 1 VegeCap daily. Can be taken with food or on an empty stomach. Or as directed by your Healthcare Professional.
Safety information
Those with high blood pressure or heart conditions should consult a Healthcare Professional before taking. Always read the label. Take only as directed.
MEDICINE INTERACTIONS: Do not use if taking anti-coagulant medications.
If taking prescription medication or if in doubt, please consult with your Healthcare Professional.