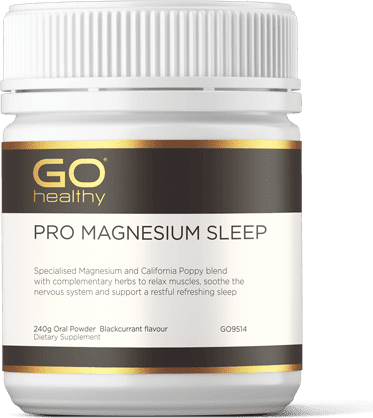 GO Pro Magnesium Sleep 240g powder
PRO MAGNESIUM SLEEP
is a specialised Magnesium and California Poppy blend with complementary herbs to relax muscles, soothe the nervous system and support a restful refreshing sleep.
Specially formulated with a combination of Magnesium, California Poppy, Passionflower, Chamomile and Tart Cherry
Calms, relaxes, eases tension and supports a restful refreshing sleep
350mg elemental Magnesium supplied in easy to take powder format
Magnesium supports healthy nervous system function and muscle relaxation
With California Poppy, Passionflower, Chamomile and Tart Cherry to soothe, calm and support healthy sleep patterns
Convenient once a day dosage
New Zealand Blackcurrant flavoured, vegetarian oral powder

Oral Powder 240g
Adults: Mix 8g powder (1 level scoop) into 200mL of water and consume immediately, once daily, 30-60 minutes before bed, or as directed by your healthcare professional.
Precautions:
Not to be taken during pregnancy or breastfeeding. Always read the label and use only as directed.
If symptoms persist, talk to your healthcare professional. Please consult your healthcare professional prior to taking if on medication.