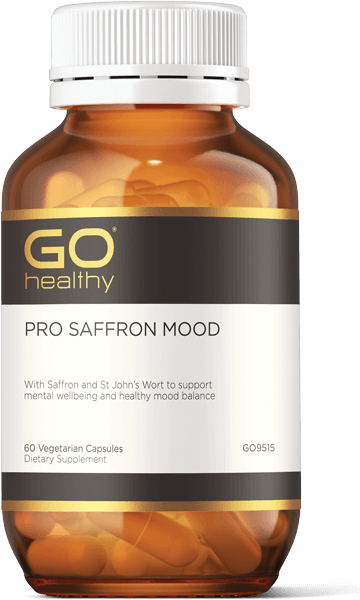 GO Pro Saffron Mood 60 vege caps
PRO SAFFRON MOOD
With Saffron and St John's Wort to support mental wellbeing and healthy mood balance.
A combination of Saffron, St John's Wort and complementary nutrients
Contains affron®, a specialised Saffron extract that supports calm, relaxation and healthy mood balance
Saffron provides support during times of increased stress, nervous tension, weariness and mental fatigue
St John's Wort is traditionally used in Western Herbal Practice to support a relaxed nervous system and to soothe nerves
One capsule daily


Size: 60 Vegetarian Capsules
Adults: Take 1 capsule daily with food, or as directed by your healthcare professional.
Precautions:
Not recommended during pregnancy or breastfeeding. Always read the label and use only as directed.
If symptoms persist, talk to your healthcare professional. St John's Wort affects the way many prescription medications work – including the oral contraceptive pill. Please consult your healthcare professional prior to taking if on medication.