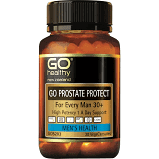 GO Prostate Protect 30 & 60 Vege caps
GO PROSTATE PROTECT provides a complex of key ingredients that help support prostate function and healthy urine flow. Saw Palmetto has been supplied in a maximum strength dose to provide optimum support for the prostate. Supplied in a convenient one a day dose for long term protection.
High potency formula that supports healthy prostate function
Supports healthy urine flow
Supports normal sexual function
VegeCap Advantage
Ingredients: Saw Palmetto ext. equiv. to fruit dry 4,500mg Epilobium ext. equiv. dry leaf 1,000mg Damiana ext. equiv. to dry herb 320mg Zinc Citrate 50mg equiv. To 15mg Zinc Pumpkin Seed ext. equiv. to dry seed 100mg Lycopene 5mg Selenium 50mcg
Made by GO Healthy in New Zealand from select imported ingredients. Available in 30, 60 and 120 VegeCaps.
Adults: Take ONE VegeCap daily. Can be taken any time, with food or on an empty stomach. For best results this product should be used long term, or as directed by your Healthcare Professional.
Caution:
All prostate problems should be checked by a Healthcare Professional.
If symptoms of BPH become worse, or you notice blood in the urine or semen please seek medical advice.
Always read the label. Take only as directed.
MEDICINE INTERACTIONS: If taking prescription medication or if in doubt, please consult your Healthcare Professional.