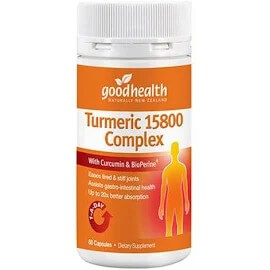 GoodHealth Turmeric 15800 Complex 60caps
GoodHealth Turmeric 15800 Complex - With Curcumin & BioPerine® for Inflammation
Good Health Turmeric 15800 Complex may help with the following:
Musculoskeletal disorders:- Osteoarthritis/degenerative joint disease/Rheumatoid arthritis/Fibromyalgia/Overuse
Syndromes (eg tendonitis, bursitis)/muscular strains and sprains/ low back pain
Gastrointestinal disorders: - Irritable bowel (IBS)/Diverticular disease/Inflammatory bowel disease (eg Crohns, Ulcerative colitis)/Dyspepsia – heartburn, nausea, burping/Peptic ulcer disease/supports liver function
Cardiovascular disease: - (eg. Angina/High cholesterol levels)
Neurological disorders:- Shingles/Neuralgia/headaches/MS/Alzheimer's
General well-being – Curcumin provides high levels of antioxidant protection – 13 times higher than Blueberries
Chronic pain – all pain is caused by inflammation
Good Health Turmeric 15800 Complex is a high potency, comprehensive formula combining Turmeric's active ingredient, Curcumin, with BioPerine® (black pepper) and the three Ayurvedic herbs, Boswellia, Ginger & Ashwagandha. As Curcumin on its own is not well absorbed we have formulated Good Health Turmeric 15800 Complex with BioPerine® for better absorption. Good Health's Turmeric 15800 Complex contains anti-inflammatory herbs all known to modulate inflammation through decreasing many inflammatory mediators (or pathways). The reason Curcumin is indicated for many conditions throughout the body is through modulating chronic inflammation. Chronic pain has many causes but all share one common denominator: - Inflammation!
Key Features & Benefits:
High level of Turmeric (15800mg) - Potent active ingredient
High level of Curcuminoids (600mg) - Better results
With added BioPerine® - Proven up to 20 x (2000%) better absorption than standard Turmeric
With Boswellia ,Ginger & Ashwagandha - 3 Ayurvedic herbs known to have an anti-inflammatory action
Comprehensive anti-inflammatory formula with multiple benefits for multiple health conditions
Convenient 1-a-day dose
►View all Good Health Products
Active Ingredients: Each Capsule contains: Extract Equivalent to Dry: Curcuma longa (Turmeric) Rhizome Dry 15800mg Equiv. Curcuminoids 600mg Boswellia serrata Gum (Boswellia) 100mg Zingiber officinale Rhizome (Ginger) 100mg Withania somnifera Root (Ashwagandha) 100mg Extract: Bioperine® (Black Pepper) 6mg
Dosage: Adults: Take 1 capsule daily or as professionally prescribed.
Warnings:
Do not take if on anti-coagulant medication like warfarin unless blood is monitored by a health professional
Do not use for people with gall stones or bile duct obstruction or people on chemotherapy medications
Do not use during pregnancy and breastfeeding

Extended Information: Curcumin is the most researched compound for its broad anti-inflammatory activities and decreases many inflammatory pathways and a number of molecules involved in inflammation. Curcumin inhibits these inflammatory pathways by preventing and inhibiting the activation of the inflammatory mediator NF-kB; - the key inflammatory mediator that is the common intracellular inflammatory signal to the following inflammatory pathways in the body. These inflammatory pathways include phospholipase, lipoxygenase, cyclo-oxygenase-2 (COX-2), leukotrienes, thromboxane, prostaglandins, nitric oxide, collagenase, elastase, hyaluronidase, monocyte chemoattractant protein-1, inferno-inducible protein, tumour necrosis factor-a (TNF-a), and interleukin-12 (IL-12). Curcumin is a powerful antioxidant (ORAC value of 127,068 v's Blueberries 9,621) and can assist in protecting the body from the damaging effects of free radical damage mainly superoxide and peroxyl radicals. This powerful antioxidant activity is thought to be the reason for its positive effect on heart health and cancer. Research has also suggested that Turmeric may show beneficial actions in the development of cancer through its powerful antioxidant protection. It also supports a healthy digestive system and function of the liver through the stimulation of bile and its antioxidant and anti-inflammatory effects.