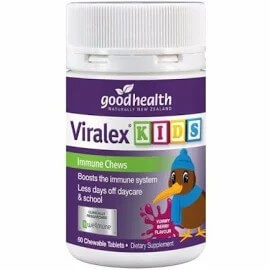 Good Health Viralex KIDS Immune Chewable Tablets 30
Good Health Viralex KIDS Immune Chewable Tablets 30
Good Health Viralex Kids Immune Chews are specially formulated to support children's immunity with clinically researched Wellmune for less days off daycare & school. Viralex Kids Immune Chews help to boost children's immune systems and supports their recovery.
Key Benefits:
Contains clinically researched Wellmune®
Delicious berry flavour
Chewable tablet with cute kiwi embossed on tablet
Supported by well-known parent brand Viralex®
No artificial colours, flavours, sweeteners or preservatives
For acute and everyday use
Active Ingredients: (per chewable tablet)
Wellmune® (from Saccharomyces cerevisiae) 35mg
Ascorbic Acid (Vitamin C) 25mg
Zinc (as Oxide) 2.5mg
Dosage: Children 1-5 years: Crush or chew 1 tablet daily or as professionally advised.
Children 6-12 years: Chew 1-2 tablets daily or as professionally advised.
Warnings:
Choking hazard.
Viralex® Kids is safe for everyday use.
Is also safe to take during pregnancy and breastfeeding.