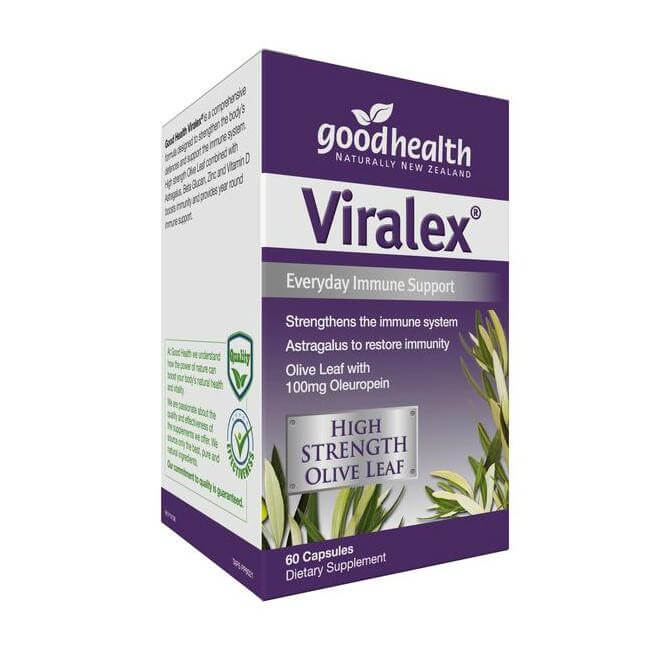 GoodHealth Viralex® 60 caps
GoodHealth Viralex® - Everyday Immune booster
Viralex® is a comprehensive formula designed to strengthen the body's defences and support the immune system. The Key ingredients: Olive leaf extract, Beta 1.3 Glucan (from dried yeast), Astragalus, Zinc and Pau D'Arco, together provide a potent tonic to support immune system function.
Key Benefits:
Potent Spanish Olive Leaf extract
Astragalus to restore immunity
Beta-glucan to strengthen the immune system
Active Ingredients: Each Capsule contains:
| | |
| --- | --- |
| Herbal extracts equivalent to dry: | |
| Olea europaea Leaf (Olive) (Equiv. Oleuropein 100mg) | 4500mg |
| Astragalus membranaceus Root (Astragalus) | 200mg |
| Other ingredients: | |
| Vitamin D3 (cholecalciferol) | 250iu |
| Saccharomyces cerevisiae (Dried Yeast) (Providing Beta 1.3 Glucan) | 100mg |
| Zinc (from Gluconate ) | 1mg |
No artificial flavours, sweeteners, preservatives or colour used in this product.
Dosage:
Maintenance dose:
Adults:
Take 2 capsules daily with food or as professionally advised.
Children 6-12 years:
Take 1 capsule daily with food or as professionally advised.
Acute dose:
Adults:
Take up to 6 capsules daily or as professionally advised with food.
Children 6-12 years:
Take up to 3 capsules daily with food or as professionally advised
Warnings:
If symptoms persist consult your healthcare practitioner.
Viralex contains HPLC certified active Olive leaf extract. The HLPC testing method guarantees potency levels. Not recommended during pregnancy or breastfeeding.
Do not use if tamper seal is broken.
Not to be used by children under 2 years of age