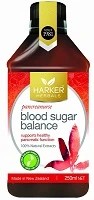 Blood Sugar Balance 250ml
Formula 1010 Blood Sugar Balance Fenugreek seeds have been shown to support the pancreas and healthy blood sugar balance. This product was known as Pancrenurse until recently.

Fenugreek has been used in Ayervedic Medicine for thousands of years as a 'regulator of inner energies'. This we now know relates to the pancreas and sugar (energy) metabolism. Fenugreek seeds have been shown to support healthy metabolism and blood sugar balance. Together with Kumarahou, which also helps support pancreas and liver functions, 1010 Pancrenurse supports pancreatic functions. Fenugreek has been traditionally taken as a tea for the pancreas.
-May help support health pancreas and fluid balance.
-May help support balanced blood sugars.
-The drops may be used at any stage.
Ingredients
Oils & Ethers
Cinnamon (Cinnamomum Zeylanicum - Oil of the Bark and leaf), Jojoba (Simmondsia chinensis - Oil from the seed), Orange (Citrus aurantium - Oil from the orange rind)
Herbs
Cayenne pepper or Chilli (Capsicum minimum - Dried pods), Fenugreek (Trigonella foenum-graecum - The seeds), Ginger (Zingiber officinalis - The rhizome), Kumarahou (Kumarahou pomaderris - Flower and leaf tips)
Seaweeds
Carrageen (Irish Moss) (Chondrus crispus)
Sundries
Celtic sea salt (Mer Sal - Unprocessed, sundried sea salt), Citric acid (From the latin word 'citrus'), Ethanol alcohol (99.9% pure grain alcohol), Glycerine (veg) (A sweet tri-atomic alcohol), Iodine (Iodas ('violet-coloured') - Greek - Natural seaweed ash-derived organic iodine), U.V. Light-Treated Rain Water
Precautions
Shake bottle vigorously prior to each dose. To accustom to product take a ¼ to ½ dose for the first 2 or 3 days. If taking prescribed medication, consult with your Doctor prior to using 'Malcolm Harker' herbal tonics. Avoid coffee or tea for ¼ hour before and after dose.
If symptoms persist, come into the health shop, for a chat or phone and make an appointment and see me as a naturopath in my clinic.
Phone: 094264455