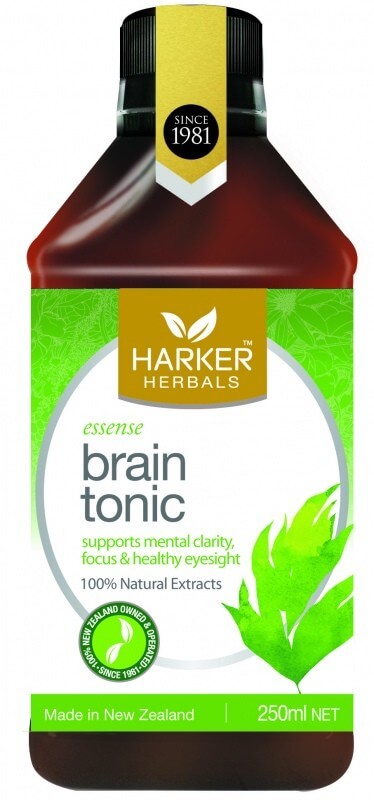 Brain Tonic 250ml
Formula 698 Brain TonicHarker Herbals Brain Tonic (formerly Essense 698) is composed of herbs known to be high in brain-specific nutrient-minerals and oxygen.


Harker Herbals Brain Tonic is:
- An ideal 'student study' elixir and 'brain fatigue' elixir. Helps clarity of thought.
- Especially suited to over-work, adult study, elderly, brain tonic.
GENERAL ADVICE
Shake well 5 - 6 times up-ended to remix.

Initial Dosage: Day 1 - ¼ dose, Day 2 - ½ dose, Day 3 - full dose, swill before swallowing.
Coffee/Tea: May be taken ½ hour before or after dose.
Preconception: (whilst attempting) ¼ to ½ dosage.
Pregnancy: ¼ to ½ dose daily up to 10 weeks.
Breastfeeding: ¼ to ½ dose 2-3 x daily. May ease lactation.
Surgery: (all) ¼ dosage, 2-3 x daily, recuperating. Stop tonic doses 1 week prior to surgery.
Drugs: Check drug/herb compatibility information sources prior to purchase. Take nutrient tonic ½ hour before drugs. Reduce tonic dose to ½ if on drug medication.

Best taken straight or by drops for infants. Can be taken in 50mls of boiled water as a tea.
Dietary Advice: Avoid - mucus-forming foods such as gluten, egg-white, chocolate, sugar, dairy, polyunsaturated oils, regular salt. Adopt - gluten-free grain foods, whole foods (greens, fruits, nuts, seeds), unprocessed coconut oil, 1022 Celtic & NZ Sea Salt with kelp, oxygen-rich water. For best results use with Intestinal Cleanse for 1 - 2 weeks. Swill prior to swallowing.
Oils & Ethers
Clary Sage (Salvia sclarea - Oil of the flowers)
Jojoba (Simmondsia chinensis - Oil from the seed)
Rosemary (Rosmarinus officinalis - Oil of the flower and leaf)
Sage (Salvia officinalis - Oil of the leaf and flower)

Herbs
Angelica (Angelica archangelica - The root)
Burdock root (Arctium lappa - The root)
Cayenne pepper or Chilli (Capsicum minimum - Dried pods)
Ginger (Zingiber officinalis - The rhizome)
Gingko (Gingko biloba - The leaf)
Licorice (Glycyrrhiza glabra - Syrup made from the powdered root)
Yellow dock (Rumex crispus - The root)

Seaweeds
Carrageen (Irish Moss) (Chondrus crispus)

Sundries
Celtic sea salt (Mer Sal - Unprocessed, sundried sea salt)
Citric acid (From the latin word 'citrus')
Glycerine (veg) (A sweet tri-atomic alcohol)
Iodine (Iodas ('violet-coloured') - Greek - Natural seaweed ash-derived organic iodine)
U.V. Light-Treated Rain Water