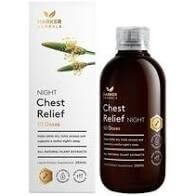 Chest Relief Night 250ml
Helps settle dry, tickly airways and supports a restful night's sleep. Liquid Dietary Supplement.
Helps settle dry, tickly airways and supports a restful night's sleep
Night time formula to help settle persistent dry, tickly airways and encourage restful sleep

Helps relax and soothe a tight chest

Includes Wild Cherry and Marshmallow root, traditionally used to settle tickly airways

Natural black cherry flavour

Free from gluten, dairy, alcohol and preservatives

Suitable for adults and young adults over 12 years

Can be taken before bed and during the night


Indicated for:

Tickly airways that interfere with sleep

Recommended adult dosage (over 12 years)
Shake well before use.

Get well: Take 5mls before bed plus 5mls as needed through the night up to a maximum of 20mls.
The price above is inclusive of New Zealand GST. If you are wanting this product delivered outside of New Zealand, the GST will be removed from your order during the checkout process.

Always read the label and use as directed. If symptoms persist, see your healthcare professional.
ACTIVE INGREDIENTS Each 5ml dose contains: Wild Cherry prunus serotina extract equivalent to dry bark 237.5mg Marshmallow althaea officinalis extract equivalent to dry root 1038mg Licorice glycrrhiza glabra extract equivalent to dry root standardised to contain 12.9mg of glycrrhizin 1038mg Ribwort plantago lanceolata extract equivalent to dry leaf 692mg In a base of NZ Manuka honey, organic rice malt, natural sweeteners, natural flavours, citric acid and water.